Video:Mike Sonko reveals Source of wealth and why he believes in sharing with the Poor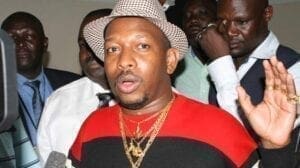 Nairobi senator Mike Sonko is a man many city residents fail to understand, from his lifestyle, source of wealth and the people magic- by all accounts Sonko is darling of many especially the youth and majority poor.
Perhaps what stands out is Sonko's flashy lifestyle; with ever trending blings,the state of the art cars, dress code, hair cut and ofcourse the unending theatrics.
Just recently he caused a stir when he showed up to the Lee Funeral Home in a Gold Chrome plated SUV, with heavily armed bodyguards that lead to an all out media war with Nation Media editors who he accused of being part of a ring that has been recruited to taint his image.
Senator is also fast becoming synonymous with philanthropic work, his well documented generosity is a talk of the nation with many believing he has done more for the people of Nairobi than those who came before him. He recently established the Sonko Rescue Team that will provid much needed emergence services like ambulance, rescue cars and towing services.
Many wonder where Sonko gets his money even with his 1 million salary per month, it is accepted that nobody can sustain his a lifestyle and be overly philanthropic. This has led to speculations about his source of wealth with others even insinuating that his wealth comes from drug peddling.
Those who know Sonko from his humble beginnings in Kwale point to his big leap forward in the real estate business in Mombasa and later move into the lucrative Matatu business in Nairobi. Sonko also revealed that he has top notch financial advisors who help him trade not just in the Nairobi stock exchange (shares/securities and bonds) but also in global financial capitals like London Stock Market, Euro Next and New York stock exchange. A single smart moves in the international financial markets leads to gains in hundreds of millions.
Trading in international financial markets is where big movers like Chris Kirubi, Kenyatta family empire, Joe Wanjui, Evans Kidero, Mwai Kibaki, Manu Chandaria, pension funds like NSSF among other top wealthy Kenyans and institutions make millions in a day.
And for those who buy cheap propaganda that the good senator is into drug trafficking, well just go a head and provide any iota of any drug scandal that can be linked to Sonko. Just like retired president Moi discovered the power of dynamic financial advisors, Sonko is not waiting for his salary but just monitoring movement of world stocks every other day and millions indeed keep flowing into pocket.
Sonko understands poverty, he knows what it means to get a quick fix, as a senator and a wealthy member of the society he believes strong institutions can be build to improve our economic status and emancipate the slum and rural poor.
Sonko confirms that deliberate policies aimed at economic growth will work in the long-run and points out the Jubilee manifesto that aims at improving the economic welfare of the majority poor. Meanwhile the suffering poor need immediate support and thus his philanthropic efforts. "a sick person cannot wait till economic empowerment is attained to go to hospital, mine is to provide impact- the rest we can do as government and as a people of Kenya" adds Sonko.
kenya-today.com