Videos:Kenyan Diaspora Rapper Releases an "Immigrants Anthem"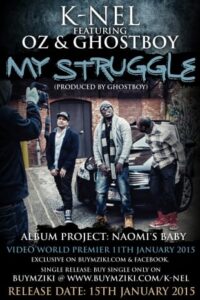 K-Nel the Kenyan Artist & Entrepreneur based in Atlanta USA is a name well known in the industry. From being an Artist, we saw him on Aljazeera TV presenting Surprising Europe documentary to a brand owner of 4 companies, one thing that is unique about this chap is his multiple ways to reinvent himself. He is always into something new and fresh.
Having taken a break from music to focus on building up his brand, K-Nel is back with a music project which will definitely blow your minds. This project is titled "Naomi's Baby" and has appearances from international artists signed on major record labels e.g Cashmoney records (Glasses Malone on his "Mbonga Mavi" debut), Jae Rich (Atlanta) not to mention there are rumors he has a record with the reggae legend Sizzla Kalonje.
Naomi's Baby is a certified classic album mostly produced by Ghostboy, a talented singer and producer based in Boston. Other producers on this album are PDubb (USA) and Deejay Snake (Portugal). K-Nel has guaranteed his fans that he is elevating Kenya's Urban music into new heights.
The leading single is "My Struggle" which features Ozmosis The K.I.D (Originally from Cuba and based in the USA) and Ghostboy who also produced the record. The record is dubbed "The Immigrants Anthem" considering every immigrant would relate to it one way or another.
The 1st verse kicks off with K-Nel rapping "I ain't seen my daughter in 5 years now ha/You don't know what I had to sacrifice to be here now ha", the true story about his daughter Naomi. It get's emotional when he cries out "nimetoka mbali, naelekea mbali", indicating he is not loosing his focus on his goals and nothing will stop him from grabing the big prize. K-Nel's goal is to inspire others not to quit on their dreams and encourages you to dream big.
The atmosphere on the 2nd verse changes when Ozmosis steps in rapping in Spanish. He sets the record straight making it well known he wasn't born rich and had to struggle to get any form of currency you can think of (Euros, Pesos, Dollars). He stresses the need to work hard to make it saying there is no shortcut to success. Ozmosis at the peak of his verse states he is being hunted by poverty but he will not fall for it. Poverty is pushing him to the edge of breaking the rules. The pain can be felt in Oz's voice.
K-Nel has shot 8 music videos for his album project and will be launching 1 music video each month for the next 8 months straight. You can buy the single exclusive only on Buymziki for 1.29$. Here is the link to buy the single: http://buymziki.com/k-nel/audio/173/my-struggle-k-nel-ft-ozmosis-the-kid-ghostboy
K-Nel Links:
Twitter: @knelking
Facebook: Nelson K-Nel Muriuki
-ghafla.co.ke