I was offered ambassadorial job to resign-EACC vice chair Irene Keino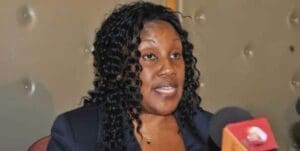 Nairobi, Kenya: The Ethics and Anti-Corruption Commission ( EACC) vice chair Irene Keino had said that she had been offered the post of deputy ambassador to Brazil in order to resign but declined.
Keino, who vowed to stay put, blamed unnamed persons for her woes and those of other officials in the commission.
"There is brazen attempt to force my resignation and disbandment of the commission by a clique, which is a clear subversion of the Constitution," said Keino.
On Tuesday, Keino and Commissioner Jane Onsongo had been pressured to quit on grounds that the public does not have confidence in them.
"The commissioners were told with no uncertain terms that it's in public interest for them to resign and after much haggling they stuck to their guns," a senior EACC official conversant with the drama told The Standard.
The discussions degenerated to drama after the two commissioners were placed in different rooms in a bid to convince each separately to quit, officials said.
It is at this point that Commissioner Keino was offered a job as a deputy ambassador to "prove that the request to step down was not in bad faith" from the Government side.
However, not convinced, Keino stormed the room where Onsongo had been placed and asked her not to relent.
Commissioner Onsongo, however, bowed to pressure from the top State officials and resigned on Tuesday night.
-standardmedia.co.ke