Kenyans in Australia to hold ceremony to remember147 lives lost Garissa in attacks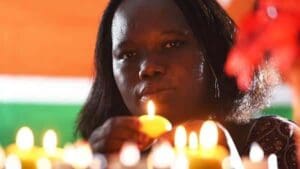 CANDLES will be lit in Darwin today to commemorate nearly 150 innocent lives taken in what is said to be Kenya's second worst terrorist attack ever.
The East African Community Association will host a multiethnic ceremony with the Multicultural Council of the Northern Territory to acknowledge the lives lost.
On the morning of Thursday, April 2, four men identifying as extremists from Somalia's Al-Shabab stormed Kenya's Garissa University and killed 147 students.
The attack has rocked the African country.
President of the East African Community Association Geoffrey Mburu, originally of Nairobi, said the vigil will show the solidarity of Kenyan people.
"The timing (of the attack) was meant to dampen the spirit of the people around Easter," Mr Mburu said.
"The nation is mourning.
"It doesn't matter what part of the world Kenyans are in – we are all connected."
A multi-faith memorial service will take place this evening at the C3 Church, 62 Patterson St (corner of Vanderlin Rd), Malak, for the slain students.
The service is open to the public. The program will include speeches, prayers and songs from 6pm to 7.30pm, followed by refreshments.
"It's also to create the awareness in the community about what is happening in Kenya and, as a whole, seeking support for people in Kenya," Mr Mburu said.
"You don't know where they are going to strike next.
"There's that element of creating awareness in the NT and around the world that this is a dangerous situation that Kenya faces.
"Whatever support is given, it is all welcomed."
-perthnow.com.au