Most wanted terrorists:Seen these men,call the police now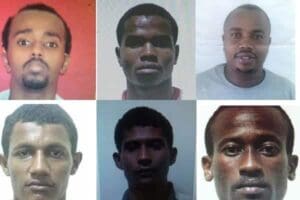 The government on Friday made public identities of nine men who have been on a confidential report of wanted terrorists following the Garissa University College attack.
The government alert showed their photographs and appealed for public help in arresting them.
Top on the list is Abdifatah Abubakar Abdi aka Musa Muhajir, wanted in connection with last year's Mepeketoni bloodbath.
"He is believed to be planning further attacks at the Coast.  He is currently in Boni Forest with his associates," the document says.
HIS ASSOCIATES
His associates are Suleiman Mohamed Awadh, Abdalla Salim Marumu, Mohamed Abubakar Mohamed and Muumin Abdalla Muumin, all from the Coast.
The report describes them as "blood thirsty, armed and dangerous."
Also wanted is Ismael Shosi Mohamed aka Ismael Mmanga who is a member of Al-Shabaab's Mombasa unit known in the security circles as Jeysh Ayman.
"He is wanted along others for the killing of Sheikh Mohamed Idriss, who was the chairman of CIPK Mombasa branch among other Muslim clerics and is also a main suspect in the killing of Mohamed Ibrahim, the CID officer who was murdered in Old Town, Mombasa," the report.
GUNNED DOWN
The slain sheikh was a moderate cleric who was gunned down in June last year.
Mmanga, the report added, "is a bloodthirsty individual known for dressing up in a buibui while conducting his illegal activities."
The others are Hamisi Mwacheti aka Rasta aka bilal, Mahir Khalid Riziki, Abubakar Majani, Hamisi Mwacheti aka Bilal aka rasta, Imsil Shosi and Mahir Riziki.
-nation.co.ke