President Uhuru Kenyatta's Full statement on Changes in Government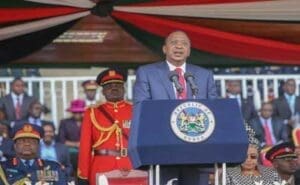 STATEMENT BY HIS EXCELLENCY UHURU KENYATTA, PRESIDENT AND COMMANDER-IN-CHIEF OF THE DEFENCE FORCES OF THE REPUBLIC OF KENYA, ON CHANGES IN GOVERNMENT
As part of the continued alignment of functions in my administration, and in order to enhance service delivery, I have today made the following changes in Government:
Kenya Defence Forces
1. Reflecting democratic values, fidelity to our constitution in regard to the primacy of civilian oversight to the security sector, the Defence Council sat today and agreed on the succession of another set of general staff officer cadre to lead our Defence Forces.
General Dr Julius Waweru Karangi will commence the handover process starting next week pending retirement as Chief of Defence Forces after more than four decades of distinguished service to our country, the region and humankind.
I take this opportunity to thank General Karangi for his dedicated service to Kenya that was marked by diligence, great commitment, humility and patriotism.
General Karangi leaves our Defence Forces in a much better place both professionally and operationally.
On the advice of the National Defence Council, I have today promoted Lieutenant-General Samson J. Mwathethe to General and appointed him Chief of Defence Forces-Designate.
Further, I have appointed Lieutenant-General Joseph K. Kasaon as the Vice Chief of Defence Forces-Designate. I have also promoted Major-General Leonard M. Ngondi to Lieutenant-General and appointed him Kenya Army Commander-Designate.
Re-organisation of Government
2. Cognisant of the need to focus attention on water as a driver of agricultural development, I have created a Ministry of Water and Irrigation Services. I have nominated the Hon. Eugene Wamalwa as the Cabinet Secretary.
3. In addition, I have nominated the following personalities to serve in Government.
a) Amb. Dr Monica Juma, nominee for the position of Secretary to the Cabinet
b) Retired Major-General Gordon Kihalangwa, nominee for the position of Principal Secretary, Department of Interior, Ministry of Interior and Coordination of National Government
4. I have also appointed Mr Nzioka Waita as Secretary of Delivery in the Executive Office of the President.
I look forward to the National Assembly, in line with its mandate, to vet the nominees as soon as possible.
Uhuru Kenyatta
President
17 April 2015
Note to Editors:
Biographical notes:
General Samson Mwathethe – Born in Malindi and educated at Shimo la Tewa and Sacred Heart High Schools Mombasa, before joining the Kenya Navy in April 1978. He was commissioned in 1980 as a Seaman Officer after attending Britannia Royal Naval College, Dartmouth, United Kingdom. He has attended a host of professional courses in the UK, Italy, the United States, and ultimately, the National Defence College in Nairobi.
Gen Mwathethe served as Vice Chief of Defence Forces. He has also held various command appointments including Kenya Navy Commander, Deputy Kenya Navy Commander, Kenya Navy logistics Commander, Base Commander Mtongwe and Fleet Commander. His other appointments included Chief of Systems & Procurement, Department of Defence, Command of individual Kenya Navy Ships.
Gen.l Mwathethe also served with the United Nations as a Military Observer in Kuwait/Iraq and Yugoslavia in 1991/92. His decorations include Distinguished Conduct Order (DCO) and Moran of the Burning Spear (MBS).
Lieutenant-General Joseph Kiptoo Kasaon – Was appointed Army Commander on 13 July 2011. He has a Military career spanning close to four decades having been commissioned in 1976. He also served as Commandant of the National Defence College, Kenya. In 1976, he attended Cadet Officer training course at the Royal Military Academy, Sandhurst (UK).
After commissioning, he served in various capacities, rising through the ranks.
Lieutenant-General Kasaon was born on 10 January 1958 in Koibatek, Baringo County.
Lieutant-General Leonard Ngondi – Served as the Force Commander for the United Nations Mission in Liberia (UNMIL).
He has more than three decades experience in Kenya's armed forces, including heading both the East and West commands.
From November 2010, he served as the General Officer Commanding Eastern Region, Kenya. Between 2005 and 2010, he held brigade-level commands and served as Deputy Commandant of the Kenya Defence Staff College.
Lieutanant-General Ngondi also served as a commanding officer of the Kenyan units in the UN Transition Assistance Group in Namibia in 1989 and the UN Mission in Sierra Leone in 2000. He was was commissioned as a Lieutenant of the Infantry Corps from the Kenya Military Academy, Lanet, in 1979. He holds a Bachelor of Arts degree from the University of Nairobi and is a graduate of Kenya's Staff and National Defence College.
—————
Eugene Wamalwa – Born in Trans Nzoia. Member of Parliament in 2007-2013. A lawyer who has served as Minister for Justice, National Cohesion and Constitutional Affairs.
Amb. Dr. Monica Juma – Served as Principal Secretary for Interior, having been transferred from the Ministry of Defence. Prior to being appointed Principal Secretary, Amb. Juma was Kenya's Ambassador Extra-Ordinary and Plenipotentiary to the Federal Democratic Republic of Ethiopia, the Republic of Djibouti and Permanent Representative to the African Union, Inter- Governmental Authority on Development (lGAD) and United Nations Economic Commission for Africa (UNECA). Amb. Dr. Juma has served as the Executive Director at the Africa Institute of South Africa (AISA), Pretoria, where she led policy research on African Affairs. Previously, Ambassador Juma also served as Executive Director at the Africa Policy Institute (API), Nairobi where she is currently a Senior Fellow; as a Senior Policy Analyst at the Safer Africa, Pretoria; and as a Research Associate at the International Peace Institute, New York. She was also Lecturer in Politics and Research Director at the Centre for Refugee Studies, Moi University, Kenya; and Management Analyst at the Office of the President, Republic of Kenya. Amb. Dr. Juma holds a Doctor of Philosophy from the University of Oxford, Master of Arts (MA) and Bachelor of Arts (BA) from the University of Nairobi and Certificate in Refugees Studies from Oxford University.
Retired Major-General Gordon Kihalangwa – Promoted to Principal Secretary from Director of Immigration, a post to which he was appointed last year.
Retired Major-General Kihalangwa is a dedicated and disciplined officer whose loyalty, integrity and competence are beyond reproach. He has a wealth of experience in both security services and people management. He served as head of Military Police before he was elevated to Assistant Chief of Defence Forces responsible for personnel and logistics at the ministry headquarters.
Nzioka Waita – Aged 39, is an advocate of the High Court of Kenya of 13 years standing, a member of the Law Society of Kenya (LSK) and a Certified Public Secretary of the Institute of Certified Public Secretaries of Kenya (ICPSK).
He is a graduate of Law (LLB) from the University of Sheffield in the UK and is presently undertaking a Masters Law degree in Computer and Communications Law from Queen Mary, University of London.
Nzioka is currently the Director of Corporate Affairs at Safaricom, one of the leading integrated communications companies in Africa. As part of his role, Nzioka has been instrumental in positioning Safaricom as a key player in shaping and driving Kenya's digital inclusion agenda.
Nzioka holds a number of non-executive director roles and sits on the Board Of Alpha Africa Asset Managers and The East African Marine Cable System.
In both his private and public engagements, Nzioka is very passionate about community service and aside from being a Trustee of the Safaricom Foundation, he sits on the Board of two other non-profit organisations, namely the African Braille Centre www.africanbraille.org which provides specialised Braille reading material for the visually impaired and Alive and Kicking Kenya www.aliveandkicking.org.uk a social charitable trust registered in the UK and having a local office in Kenya.