Sad Video:Burnt alive-violence against migrants in South Africa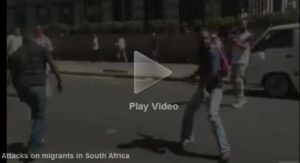 In one video a group of migrants are rounded up and burnt alive – including a child. In another a man is dragged on the streets naked and then stoned.
Some migrants are too scared to go out, and others have armed themselves trying to protect their livelihoods.
800 police officers have been deployed on the streets of Durban, and their presence causes tension and chaos. They try to reassure immigrants about their safety – but with their dismal record, there isn't much trust.
There is evidence that the violence is spreading outside of the city. On Wednesday in Johannesburg an Ethiopian man was attacked before others came to his rescue. The city was the epicentre of a similar violence in 2008 in which about 60 people died.
'Pack their bags'
Immigrants are blamed for taking jobs and opprtunities from locals. Many of them have been forced to close their shops.
Reported comments by the Zulu King Goodwill Zwelithini – that foreigners should "pack their bags" and leave – are thought to have stoked the fires of hatred. Many of those rioting were heard chanting "the king has spoken".
The government has refused to categorise these attack as xenophobic, instead warning against spreading false information.
This is seen as a terrible tragedy of memory by South Africans who endured racial intolerance under apartheid. Africans, who supported the country's liberation, are being rewarded with beatings and burnings.
A disappointing failure of the African brotherhood.
-channel4.com