SAD:AFRICANS RISK DEATH TO JOIN DIASPORA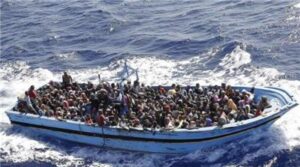 400 illegal immigrants are feared to have died this week in a shipwreck in the Mediterranean Sea while trying to join diaspora through Italy. The International Migration Organization (IOM) expects the number of people embarking on these treacherous journeys will go up as the summer months approach and the sea becomes calmer.
This story is not for the faint-hearted. It contains disturbing facts. If you read it from the relative comfort and security of your home in the United States or Canada, Europe, Asia or some place in Africa, spare a thought for those who perished trying to escape from poverty, unemployment, crime, poor service delivery, war or political repression in Sub-Saharan Africa and the Middle East.
This year alone, almost 1000 people are missing and feared dead in the Mediterranean Sea.  IOM estimates that in 2014, almost 170,000 illegal immigrants from countries engulfed in conflicts such as Libya, Syria, Yemen, South Sudan and Somalia may have arrived in Italy. Close to 3,500 of them are said to have died in the sea last year, according to UNHCR.
These are heart-breaking statistics because the unfolding human tragedy could be avoided through early mitigation and tackling of the root causes of poverty, political tensions and other factors that drive human migrations.  African and Middle East countries must do more to grow food and ensure security for their people through massive investments in all sectors of the economy and reform of their political systems to allow free and fair competition of ideas. So many years after independence, these governments can no longer have the luxury of blaming imperialist bogeymen for their own incompetence and graphic failures.
The immigrants part with an average of $5,000 per persons to secure a place in the unseaworthy vessels that take them across the sea. That means last year criminals may have made around $1 billion from their illicit trade of smuggling people to Europe. With multinational navies policing the Gulf of Aden, it would appear pirates have turned to the equally lucrative and but more deadly business of people smuggling.
When he was alive, the Libyan strongman Muammar Gadhafi used to tout European governments to co-operate with him or else he release the human bombs on them.  The ever-irritant Gadhafi may have been a dictator, but his country held together during his reign and employed a large pool of foreign workers from the rest of Africa.
As if tired of his touts, NATO forces supported the rebels who kicked Gadhafi out of office and later killed him. The aftermath is a lawless country governed by armed militias. The ranks of foreign workers have dwindled as the pockets of religious fanatics and separatist militants have swelled in Libya.
The geo-political considerations that drew NATO into the internal jockeying for power in Libya may have been easily achieved thanks to the organization's superior air power. But without a strong central government in Tripoli, one of Africa's richest countries is now in tatters and risks becoming a haven for terrorists unless a quick fix is found. Has Libya been a lesson on military interventionism? Apparently not, as the unfortunate Syrian crisis has shown.
Media reports indicate that a fight between the illegal immigrants in the sea took a dangerous religious dimension when Muslims threw Christians into the shark-infested waters. If this is confirmed, security chiefs in Europe may finally get the answer to the question, why so many young people embark on these dangerous sea trips. By threatening to unleash human bombs on Europe, the pompous Muammar Gadhafi may have had jihad terror in his mind.
Hopefully, the pile of body bags being pulled from the sea will shake Europe's moral conscience to resume the search and rescue missions that might minimize these deaths of poor illegal immigrants.  More importantly, rich Europe may be prompted to move with speed to address with African and Middle East governments the security, economic and political conditions that drive these tragic migrations.
As the skies clear and warm breezes blow from the Med Sea, those wishing to join the ranks of African diaspora through panya routes should be warned that Europe distrusts and dislikes them and if things go wrong during the journey, they risk becoming a meal for sharks. And, with South African blacks expressing their frustrations at the slow pace of economic empowerment by attacking immigrants, diaspora is still far from home.
By Leonard Njoroge, Diaspora Messenger Contributor, Email: [email protected]