Uhuru addresses US forum via video link after US trip debacle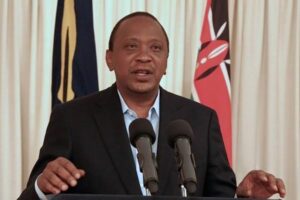 President Uhuru Kenyatta on Wednesday addressed the Milken Global Conference via video conference after he cancelled his trip to Los Angeles, US, last week.
"I'm disappointed that I couldn't join you in person. Still, it's a pleasure to make my contribution to this important conference by video," a script of his speech sent by the Presidential Strategic Communication Unit read.
The trip was cancelled at the last minute on Thursday night following what State House referred to as "increased military activity in Yemen."
The President's plane was rerouted to Nairobi on security fears in Yemen.
The plane had been scheduled to fly over the Yemen airspace en route to Dubai, where the president had been scheduled to take an Emirates commercial flight to the United States.
The conference brings together leaders and entrepreneurs. President Paul Kagame of Rwanda is among key speakers.
In his speech, President Kenyatta urged American businesses to ignore untruths about Africa and invest on the continent.
He said Africa is a place of diverse countries and peoples, with considerable opportunities for trade and investment.
"I invite you to engage them, and see how we can work together. This conference is a superb opportunity to replace the older, darker view with a more accurate picture on Africa," the President said.
The President said the country has made substantial investments in infrastructure — the Mombasa port is being expanded, a new standard gauge railway running from Mombasa to Uganda is being built and a new port in Lamu is under construction.
"We are the gateway to Africa; its ninth-largest economy; and the heart of a community of 150 million people. We aim to make the most of these advantages," President Kenyatta said.
He said Kenya is keen to form partnerships in ICT, agriculture, energy, financial services and manufacturing.
The President pointed out that though the country has the best Internet connectivity in Africa, more could be done from the experience of others.
"There is potential for partnerships in energy, especially because Kenya has perhaps half of Africa's potential geothermal power," President Kenyatta said.
Saying young people and cities often drive innovation and growth, President Kenyatta said Africa will soon have about one billion young Africans of working age and over 100 cities of at least a million people each.
President Kenyatta said reforms in various countries on the continent have revived African solidarity.
"We have renewed our conviction that if we stand together, we can solve our problems and earn the prosperity and freedom that we deserve," he said.
-nation.co.ke