VIDEO:A CONVERSATION WITH USA AMBASSADOR ROBINSON GITHAE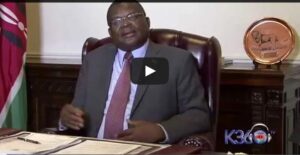 President Uhuru Kenyatta will this weekend arrive in Los Angeles on Saturday, April 25th 2015 to attend the Milken Institute Global conference that runs between April 27th – April 30th.
While speaking to Ron Imanene of KENYA360 MEDIA in an extensive interview that will be carried soon on www.kenya360.tv, the Kenyan Ambassador to the US Robinson Githae stated that the President's visit to LA will begin on April 25th with a meeting with Kenyans living in LA and it's environs before attending the conference from April 27th – 29th 2015.
Ambassador Githae expressed his excitement at the Presidents attendance of the conference adding that the importance of the Milken Institute cannot be underestimated as it brings together top tier players in business, innovations and technology and who together ran entities with a combined asset base of over 19 trillion dollars.
In a Milken Institute conference promo that features internationally recognized industry giants and world leaders, former US President Bill Clinton defines the conference as "a forum where people who have all different kinds of perspectives come together and talk together about this things in a space where people feel actually free", while former British Prime Minister Tony Blair states that, "the great about the Milken Global Conference, it brings together people that are doers. This are not people who are commentating or writing about the issues of the day – this are people who get things done."
And in matters relating to Diaspora affairs, the envoy disclosed that a final list of proposed honorary consul locations had been approved with plans to operationalize them by the end of the year being at advanced stage.
The locations will be Boston, Dallas, Atlanta, Chicago and Minneapolis with Seattle still being in pending-approval status. He stated that while the primary reason for the consuls is to take consular services closer to the people, the sites would also provide a visible diplomatic footprint in an otherwise expansive territory thereby providing an advantage to Kenyans living in the US for accessibility to a poling station if the IEBC makes good on it's intentions to allow Kenyans vote in Kenyan embassies, High Commissions and consulates in the 2017 elections.
-Kenya360TV