VIDEO:ANGRY BALTIMORE MOM BEATS SON AFTER SEEING HIM THROW ROCKS AT POLICE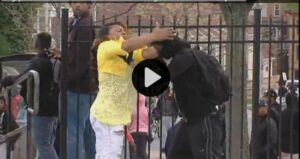 A Baltimore mom could not take the nonsense of the hooligans destroying her city and especially the son being part of it.
A suspected rioter in Baltimore got the smackdown of his life Monday by his mom on television.
The mother saw her son on television throwing rocks at police, reports ABC Baltimore affiliate WMAR. That's when she'd had enough, dishing up a dose of discipline.