Video:Modern day slavery, untold suffering and misery for Kenyan's in Qatar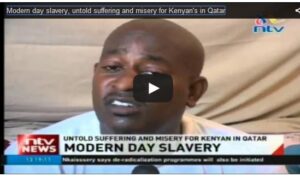 Untold suffering and misery continued to haunt many Kenyans who flock the Middle East, with a promise of fulfilling their dreams. For many it was a horrific experience of modern day slavery, where only a few manage to escape from it's jaws.
Kassim Heri Hassan, was one such Kenyan who has been left with permanent scars after a short stay in Qatar.