Video:Uhuru declares 3 days of mourning Garissa massacre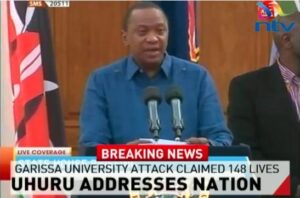 NAIROBI, Kenya Apr 4 – President Uhuru Kenyatta has declared three days of mourning the 148 people, including security forces killed during the Garrisa University terror attack.
The President said during this moment Kenyan flag will fly at half mast and pledged of the governments support to the victims and the families of those affected. The mourning starts on Sunday.
In an address from State House, Nairobi, President Kenyatta warned that his government will respond to terror and terrorists in the "severest way never seen before".
"I want you to know that our security forces are pursuing the remaining accomplices and we will bring all of them to justice," he said, adding "We are also in active pursuit of the mastermind and have placed a reward for his capture."
He was referring to Mohammed Mohamud alias Dulyadin, alias Gamadhere or Kuno who has a Sh20 million bounty on his head for allegedly planning the Garissa attack that claimed lives of 142 students, 3 police officers and 3 military officers. Four terrorists were also killed during the security operation after taking over 500 students hostage, while five others were arrested.
"I personally believe that Islam is a religion of peace and tolerance. Tenets of which the vast majority of muslims in Kenyan and throughout the world uphold. However, time has come for us to be honest to ourselves and each other. The Radicalization is happening openly, it occurs in the full glare of day in homes, in Madrassas and in Madrasas with rogue Imams," the President said, and directed security forces to act tough.
"We must ask ourselves where are the parents and families of those being radicalized, where is the community leadership, where is the political leadership the government must get the information of all these parties if we are to combat these terrorism," he posed.
The Head of State blamed the continued terrorist activities to lack of cooperation from the community which fail to provide information to security forces, leading to senseless killings like the one that occurred in Garissa on Thursday.
"It is a fact that our task of countering terrorism work has been made all the more difficult because the planners and financiers are deeply embedded in the communities and were seen as ordinary harmless people. We will not allow them to continue their lives as normal," he said, vowing that "The full force of the law will be applied with even greater intensity than has been the case previously."
Some of the over 500 survivors of the massacre were expected in Nairobi later Saturday for counseling and overnight stay at the Kenya School of Government before they are transported to their respective homes. Others were transported from Garissa straight to their respective counties.
-capitalfm.co.ke