Why Kenyan female MPs Millie Mabona, Joyce Lay want 'test-tube' babies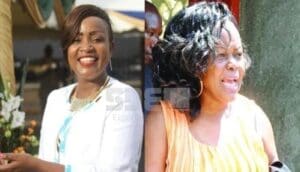 Their being MPs does not make them any different. These women cry and laugh like ordinary women, just ask Millie Mabona and Joyce Lay.
The tale of abuse and heartbreak that stalk a childless woman in the National Assembly came to the fore on April 15, as two beautiful and married women lawmakers shared personal and teary experiences at the hands of their opponents and colleagues in the august House.
In candid and shocking revelations, Millie Mabona (MP, Mbita ) and Joyce Lay (Women Representative,Taita-Taveta) – two MPs who have previously complained publicly about assault and harassment by alleged randy male colleagues, spoke about the pressure put on them to have children, and why they are considering the option of having test-tube babies, through invitro-fertilisation (IVF).
Millie revealed that Deputy Majority Leader, Naomi Shaaban, has been piling pressure on her to have children, and that whenever she disagreed with some of her male colleagues, she was dismissed as "a barren prostitute" behind her back.
"My friend Dr Naomi Shabaan has broached this subject severally. She has been following me and telling me, 'Millie, now we need you to stop and have your own child'. I have promised them that I will and even if I don't have my own, I will adopt because I have been a mother to many children as the director of Cradle (a children's rights non-governmental organisation)," Millie said.
Millie, who is married to a Zimbabwean, then explained why she doesn't have children. "One of the reasons I still don't have a child is my lifestyle – I am married to non-Kenyan and I do not want to have a child with another man and purport to present it as my husband's baby.
Because of the distance and my age, we cannot have a child naturally, unless of course we go back to the biblical times of Abraham and Sarah. But miracles are in short supply nowadays," said Millie, who is a lawyer by profession.
It is then that she shared the secret of her history with Joyce Lay, and why they were pushing for the enactment of a Bill to regulate and make IVF affordable. IVF involves the fertilisation of a woman's egg with sperms in a laboratory, and then implanting the resultant embryo in the woman's womb.
"Joyce Lay got a child through assisted reproduction…because she could not, for medical reasons, have the child (the natural way). After she delivered the child, she was forced to go to court to adopt her own child. Those are the ridiculous situations that we find ourselves in," said Millie, who teamed up with Lay to sponsor the invitro-fertilisation Bill.
Millie was very categorical in her contribution:
"I have delayed  having a baby through IVF until there's a legal framework, because I don't want to have a child and then after that go to court and start struggling about whether this is my child or not. Even if I don't have a child, I am proud and I want to tell all the women in this country who don't have children that it is neither a crime nor a shame to be childless."
"Some of my colleagues here made very unfortunate remarks when we were politicking. One of them actually referred to me as a 'barren prostitute' because we disagreed on a political issue. When I come to this House as a woman, I know that I will always be hit below the belt. Please look for more innovative ways to attack us as women," she told the stunned House.
Lay is happy that she has company in Millie. She too wants the law enacted.
"When I first came to this House, I had some time to share with Millie Odhiambo about my experience and I told her that there's a Bill that I'd want to introduce to Parliament and I'd need her help. To me it is a prayer answered. It is something I have lived, I am a living testimony," said Lay.
"When I was campaigning, some of my opponents were heard asking the electorate; 'how can you vote for a woman who cannot give birth? This woman has to be assisted to give birth'. It is a painful experience no woman would want to go through," noted Lay.
-sde.co.ke