BONIFACE MWANGI'S PRESENCE AT MOSQUE FUELS TALKS HE'S BECOMING MUSLIM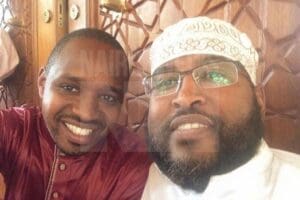 Activist Boniface Mwangi on Friday joined Muslims for their prayers at a Mosque in Hurlingham, Nairobi and shared the photos on Facebook touching-off suggestion that he was converting to Islam.
Mwangi, who has always been outspoken, however, explained why he went to mosque.
"It was on invitation by young Muslim professionals and after the khutbah (sermon) a discussion on radicalization of youths was held.
"Young Muslims feel the senior Muslim leaders are not tackling these issues. As a Christian l concurred because the Christian leaders who speak for me have not been brave enough to speak truth to power and address the root cause of radicalization," Mwangi wrote.
The post evoked mixed reactions among his fans with some asking him when he will be inviting the Muslims to churches.
-nairobinews.co.ke