Ida Odinga speaks out for the first time about the pain of losing Fidel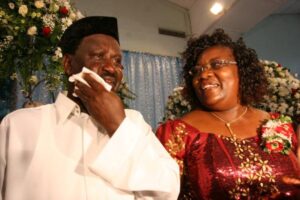 Fidel featured most during Ida Odinga's 4am devotion, the former Prime Minister's wife has said while speaking of her son's death to the media for the first time.
In an interview with KTN at her Karen home, Ida and her husband Cord leader Raila Odinga, revealed how they received news of Fidel's death.
"Rosemary called me and said she had received a call from Lwam that Fidel was not breathing," Ida said during the morning interview.
Unable to get a driver, Ida and Raila drove themselves to Fidel's house, where he lived with his wife Lwam Bekele and their son aged 1year and 8months.
"When we got to Fidel's house, the paramedics were there trying to resuscitate him. There is nothing as hard and painful as watching your child die, it's unbearable."
Ida said she was the first person to tweet about his death, after which blogger Robert Alai picked it up.
In an effort to cope with Fidel's demise, Ida has reached out to mothers who have also lost children including one who lost a daughter in the Garissa University college attack.
"When I learnt of my son's death, the world came to an end for me. Patricia Radull helped me cope during Fidel's death. I have also stood with other bereaved mothers," she said.
She says seeing Fidel's son, who looks like his father did when he was that age, gives her strength.
Raila said many of those they called that Sunday morning, were unavailable, but his sister-in-law helped pass information.
"Those who came to condole with us really helped with the healing process. I remember the last conversation I had with Fidel was about Meshack Yebei, the ICC witness that was killed," he said.
Fidel had lunch with his parents the day before his death and later went out with his friends, getting home at around 1 am. He was found dead by his wife on January 4th, 2015 and cause of death has not been established.
The Cord leader also spoke of his relationship with wife, whom he said was his advisor in every situation.
"When I first saw Ida, I would say it was love at first sight, she just captivated my attention. I cannot say I am a romantic, but I am very moderate," said Raila.
"I would describe Ida as a bold woman with a very strong character and personality. Ida is happiest when I am around," he said.
– the-star.co.ke