KANU embarks on massive recruitment in Nyanza in preparation for 2017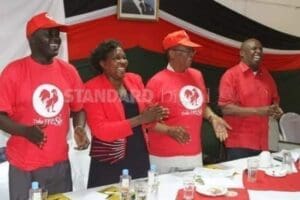 KISUMU: KANU is set to embark on massive recruitment drive in Nyanza next month as part of its preparation for the 2017 political contest.
The initiative will be unveiled by party chairman Gideon Moi and Secretary General Nick Salat.
The party's deputy national Organising Secretary Jack Nyambega said the exercise is part of their agenda to strengthen the party's presence in the region which is predominantly an Orange Democratic Movement (ODM) zone.
"Enlisting of members from Nyanza will begin early next month and will cover all the six counties in the region," Nyambega told journalist in Kisumu Tuesday.
"Recruitment of members from Kisumu, Siaya, Homa Bay and Migori counties will be unveiled in Kisumu, while the exercise covering Kisii and Nyamira counties will be launched in Kisii town," he added.
Nyambega was flanked by the party officials from Kisumu branch, led by Secretary General George Oulu and Organising Secretary Milton Kwach.
The officials declared support for Mr Moi's 2017 presidential bid, saying he was the best bet for the Rift Valley region, adding that he has not been tainted by acts of corruption.
"Gideon has a right to vie for any elective position, therefore claims by some Rift Valley leaders that his candidature will spoil chances for Deputy President William Ruto are misleading," said Kwach.
"Youths will play an integral part in our recruitment drive. We want Gideon to visit Nyanza and Western Kenya more frequently to make the party more vibrant," said Mr Oulu, adding that the party chairman would inject fresh blood into Kenya's leadership in 2017.
It appears KANU which has been consolidating its support base in the Rift Valley region is now keen to shift focus to other areas especially the Opposition strongholds.
The leaders also opposed a merger between KANU and other political outfits before 2017, saying the party should first undergo revamping.
Meanwhile ODM Kisumu County branch chairman Dave Okwach has cautioned some of the party officials against an alleged plot to destablise Kisumu county government.
Okwach claimed a powerful ODM leader from the region had warned him against attending events presided over by Governor Jack Ranguma.
"Why should a leader threaten me not to attend Ranguma's functions yet the administration is implementing the ODM manifesto, of which I am the county party chairman?" he posed.
Mr Okwach claimed the party officials he did not name were keen to benefit from wrangles in the county assembly and were using the name of the party to instill fear on the county government leaders.
He assured governor Ranguma that ODM was fully behind him, against claims by some leaders that the party had plotted to impeach the governor.
-standardmedia.co.ke