Nakuru ODM Chair disarmed after firing at journalists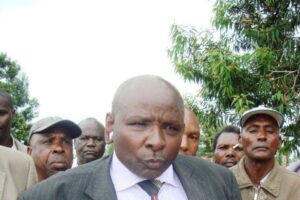 THE police have disarmed a senior Nakuru ODM official who allegedly opened fire at six journalists covering a demonstration over closure of a public road in the county on Friday.  The Party Nakuru chairman Peter ole Osono was disarmed on Saturday following a directive from Inspector General Joseph Boinett.  "We have disarmed the Nakuru ODM Chair following the IG's directive. He has written a statement at our offices at Gilgil," said Gilgil DCIO Joseph Owiti.
The officer added that they have launched investigations into the matter .  On Friday,six Nakuru based journalists escaped death after Ole Osono reportedly opened fire at them while they were covering a demonstration over the closure of a public road.  Ole Osono is at the centre of the controversy surrounding the ownership of Oljorai settlement scheme in Elementaita Gilgil.
The journalists were forced to run for their lives as youths armed with bows and arrows accompanying Ole Osono chased after them.  The journalists said that the Ole Osono drew his pistol and fired twice directly at a cameraman and a photo journalist who were forced to lie down to dodge the bullets.  It took the efforts of Rift Valley Regional Commissioner Osman Warfa and the demonstrators to rescue the journalists.  Three administration police officers arrived at the scene but encountered a hostile reception from members of the public who accused them of protecting Ole Osono.  Locals were demonstrating over alleged closure of a public road by Ole osono and his refusal to reopen it despite a directive from the National Land Commission Chairman Mohammed Swazuri to open it on Monday.
Speaking on phone, Warfa condemned the incident saying that journalists should be allowed to do their work without interruption.  "Ole Osono will have to be disarmed since he shot at former Naivasha MP John Mututho in similar incident in 2002. Police will launch investigations into the matter," he said.  The journalists reported the incident at Nakuru CID office on Friday. No arrests have been so far made.
Nakuru County Human Rights Network Executive Director David Kuria condemned the incident.  "We are dismayed by the Nakuru ODM Chair for misusing his firearm. Journalists have been attacked on several occasions this year while performing their duties. We call on the relevant authorities to ensure the rights of journalists are protected," said Kuria in a statement.  The human rights groups and County leaders demanded that the Chairman be arrested and charged.  "His integrity his questionable and does not deserve to be a leader. We demand justice to be done," Kuria said.  "The government should investigate how the 14,000 acre ADC farm was distributed and find how one person can have over 400 acres," he added.  Kuria further called upon the government to address land squabbles in the area to avoid such confrontations which may lead to loss of lives.
– the-star.co.ke