Photo:Hilarious Vehicle On Kenyan Roads Doing Rounds On The Internet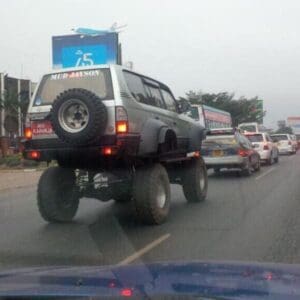 One truck has attracted the eyes of Kenyans, in as much as folks are laughing their lungs out at sight of the vehicle, the owner will certainly have the last laugh if heavens continue opening.
A monster Prado truck spotted on the roads of Nairobi is currently the talk of social media. The sheer size of the improvised vehicle has stunned Kenyans who couldn't hide their laughter.
The truck is almost twice the height of a normal SUV with extremely large wheels and suspension. The car dwarfed all other vehicles that were within its vicinity.
The plate is equally conspicuous, 'Mr. Karanja'. While Kenyans are making fun of Mr. Karanja's ride, the dude seemed to have been adequately prepared for the heavy downpour experienced in Nairobi.
Last night parts of the city were flooded and we saw some vehicles getting submerged, this is where Mr. Karanja's truck comes in handy.
It seems that road monster was specially designed to deal with such kind of situation, it can't get stuck like others vehicles.
Oh! All those teasing Mr. Karanja should also know the guy is loaded, notice the personalized plate? To get one you will be parting with a million bucks, the ninja is no ordinary hustler. Lanes!!!