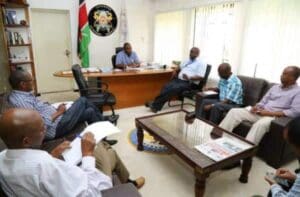 I'm always impressed by how Americans do things in a big way. The Oval Office is the official office of the President of the United States, and no matter what angle you look it at, it's quite elegant, and passes along a powerful statement.
Mombasa Governor Ali Hassan Joho posted pictures of his office on Facebook, and you can see the inspiration is the Oval office… only that it's way smaller and not oval.
It would be a little better if the carpet logo was not hidden under the table.
– nairobiwire.com