I have no regrets for undressing -Millie Odhiambo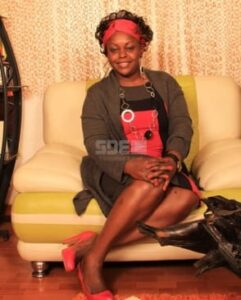 Mbita MP Honourable Millie Odhiambo lost her father Harrison Odhiambo, died in a boat accident in 1973, a year before he could vie for Mbita parliamentary seat in 1974. After her fathers death, Millie and her siblings suffered the stigma of being orphans. Millie shared with Cate Mukei how she overcame her childhood and adulthood challenges
Did your father's death push you to politics?
Yes. I like to say I am a chip off the old block. I definitely inherited the political bug from him, though I was probably the least likely member of the family to inherit this trait. As a young girl, I was more like my mother – shy, less talkative, religious, spiritual and not keen on politics.
How was the relationship with your father?
I was fairly young when my dad died, but I still have vivid memories of him. He loved me a lot, especially because I resembled my grandma and he fondly called me Nya Gera (meaning 'daughter of Gera,' which is how my grandma was referred to). I loved dancing so he would play Lingala. He took us to public functions where we got privileged treatment. He often took us out for outings and on drives. I remember my last birthday with him. He bought me and my sister Dottie red and yellow sunglasses. He died two days later.
Did life change after his death?
Yes it did. Our social network changed. We were no longer invited to some birthday parties. Most of his friends 'disappeared.' My mum had to struggle very hard to educate the eight of us. I grew up knowing we were somewhat different. My mum tried her best though to ensure we fit in.
What do you miss most about him and are there qualities you share with him?
I missed having a father like other kids and wondered whether things would have been different. Mama would say at times that, "You know your dad would have been an MP in Mbita and we would not be struggling so much." He also loved fun and would organise 'dances' that were attended by parents. I am told my dad was so bold and frank. People in south Nyanza for instance feared challenging Tom Mboya in favour of Jaramogi, but my father was one of the very few who could do that. I have also read some newspaper reports about him. He was very critical of the Jomo Kenyatta government. I guess I picked some of those traits.
How were your first campaigns for political office?
My campaigns to office were very exciting, but also challenging. Even though I had a lot of support, the incumbent did not support me. I lacked resources and faced violence and propaganda. I have written about my experience in a book titled Political Leadership Unpackaged: Lessons for Aspiring Women Leaders. I was surprised to learn that elected women had not shared their political experiences before. I respect any woman who has vied against men and won.
Is there a particular incident that 'toughened' you?
I have learnt a lot over the years. Some of these lessons have lasting impacts that have toughened me. When my father died, I learnt about change of guard. When my father was alive, we would be driven to the stadium and get VIP treatment. Whenever there was a fracas, we got police protection, since we were considered children of a dignitary. After my father's death, I attended an event a month later and as was the norm, made for the VIP section. But things had changed and I was pushed to the public 'sun' gallery. I learnt very early that nothing, including positions, are permanent.
You vehemently opposed the controversial Security Laws (Amendment) Bill and accused Moses Kuria of what could be interpreted as sexual assault…
Moses Kuria punched me and apologised the same day. Two MPs tried to undress me and a third was pulling my panty. I did not decide to undress, but simply 'helped' those trying to undress me. I told them I am not ashamed of my nakedness hence they should not try to embarrass me using the same. I have worked for years on issues related to violence against women. All I did was take the 'power of embarrassment' from them by showing them their action had no impact on me.
You once said in an interview that you met your husband at a time you had decided to keep off relationships. What had happened?
I just wanted time out to myself before getting involved in a serious relationship.
How often do you see your husband?
Before, we saw each other like four times a year. Now we see each other more often.
Recently, you said in Parliament that some men have called you a prostitute for not having children. How do you cope with such negativity?
I felt sorry for the person who called me a prostitute for not having a child. That is a person mocking God, because it's God who chooses whom to bless. I hope he seeks forgiveness from God.
How often do you see your step-daughter?
My step-daughter is called Lebo. I have a very good relationship with her. We communicate often on phone. She lives in Botswana with her father and mother, but we keep in touch and meet once in awhile at family events in Zimbabwe, South Africa or when I travel to Botswana. She is in college now.
-sde.co.ke