Two Shabaab gunmen killed in Dadaab shootout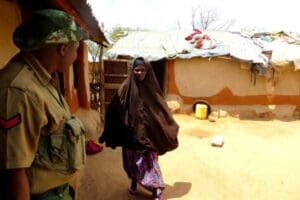 Two suspected Al-Shabaab gunmen and a police officer were Tuesday night killed after a fierce gun battle between the police and the gunmen at Hamey Patrol Base in Dadaab, Garissa County.
Confirming the incident, Dadaab OCPD Raphael Kimilu said the gunmen numbering between 10 and 15 attacked Hamey Police Patrol Base in Damajaley Division near the Kenya-Somalia border at 11pm on Tuesday which resulted to heavy gun fight.
He said police officers who were alert responded swiftly and engaged the attackers who are suspected to be members of Al-Shabaab from neighbouring Somalia and killed two of them instantly.
"Our officers managed to engage these attackers and killed two of them but unfortunately we have lost one of our own," he told the Nation by phone.
The OCPD said they had managed to recover the bodies of the attackers who were killed by security officers while at the same mobilising all other security agencies to pursue the other attackers who are suspected to have fled to Somalia.
Hamey came under attack in May 2013 where two teachers and several Administration Police officers lost their lives.
Abdisugow, which is five kilometres from Damajaley, was also attacked where police officers were killed.
Al-Shabaab militants seem to have found the town, which is at the border point, to be a soft target for their attacks.
On April 2, 2015 suspected Al-Shabaab gunmen stormed the Garissa University College killing 148 people, almost all of them being students.
-nation.co.ke