Do not spoil my chances to succeed Uhuru, says Ruto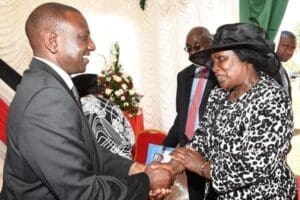 Deputy President William Ruto on Saturday asked other leaders in the Rift Valley not to upset his quest to succeed President Uhuru Kenyatta when the latter's term in office ends.
The Deputy President, who took a conciliatory approach, called on all leaders from the Rift Valley to work together for the sake of development and support his plans to take up the reins of power in 2022.
In what seemed to be a message directed to Baringo Senator Gideon Moi, Mr Ruto said many people had shelved their own ambitions and persevered to allow retired President Daniel arap Moi ascend to power following the death of Kenya's founding President Jomo Kenyatta in 1978.
"Why do you want to spoil things for me now? Let's all travel together in this journey in one direction. The government is big enough to accommodate all of us. If everyone had thumped their chests in the past, President Moi would never have ruled this nation," he said.
The funeral service for former Ainamoi MP Noah Too degenerated into a bashing session for perceived political enemies of the DP. Mr Too, who was laid to rest yesterday, was also at one time the director of criminal investigations.
As soon as the family and clergy exited the stage to pave way for politicians, the ceremony turned into a full-fledged political meeting, with the leaders unashamedly engaging in heated exchanges in the presence of the DP.
But while Mr Ruto was playing safe, his allies went full steam to pass their message to perceived political dissidents in the Rift Valley, notably Senator Moi, Bomet Governor Isaac Ruto and his Kericho counterpart Paul Chepkwony.
National Assembly Leader of Majority Aden Duale accused the two governors and the Baringo senator of disrespecting and undermining the DP, reminding them that Mr Ruto was way above their league and asking them to play politics with people at their own levels.
"We must understand that Ruto is a national leader and not a governor. There is no way a governor or anyone else can attempt to compete with the Deputy President. We gave some people small budgets of only Sh3 billion and now it seems they have gone mad," he said.
He said leaders of the Rift Valley had made a decision to support President Uhuru Kenyatta for a second term in 2017 and later on in 2022 assist Mr Ruto ascend to the presidency.
In an apparent reference to Governor Ruto who was recently pictured meeting with Opposition leader Raila Odinga, Mr Duale accused some Kalenjin leaders of working with those who are allegedly behind the DP's woes at the International Criminal Court (ICC).
Elgeyo Marakwet Senator Kipchumba Murkomen accused the governors of being in a hurry unnecessarily and accepting to be used by the opposition to split the Kalenjin vote.
He wondered why only the community seemed to be falling apart ahead of the 2017 elections and called on the perceived rebels to support the Jubilee Alliance Party and the Jubilee government.
"Some people are being lied to that they will be asked to become running mates to certain presidential contenders in 2017. We must learn to respect those in authority," he added.
Mr Moi said he had not declared interest in any seat and wondered why his name was being dragged into every debate concerning the political unity or the lack of it in the Kalenjin community.
The emotional senator warned that a move by some leaders to throw barbs at those who are seen to be against the Deputy President will only cause more divisions in the community, saying it will result in leaders taking different routes to State House.
"I demand respect. I cannot be expected to offer respect if I am not getting any. Don't think that by insulting others you will achieve unity among Kalenjin leaders. I am one of those championing unity and dialogue but if hurling insults at each other is part of the deal, I will not be part of it," he said.
Mr Moi said he has only been speaking out against the falling maize prices, Mau Forest resettlement and the vicious cattle rustling and banditry in the North Rift, which he claimed has left more than 400 people dead in less than a year in his Baringo County.
"I have never declared interest in gunning for State House. When the time comes for me to do that, I will declare in a political gathering not in any other venue. In the meantime, DP Ruto should continue with his work while I do mine," he added.
On his part, Governor Ruto said he had no personal problem with the Deputy President, adding that his only goal has been to champion full devolution of functions to county governments.
He said he had been acting on the demands from Kenyans in all the counties across the country and called for the resettlement of Mau evictees.
Prof Chepkwony urged the DP, who is also the URP leader, to hastily convene a meeting bringing together all the leaders in the Rift Valley so as to iron out any outstanding issues and restore unity in the party.
"All I have been asking for is more money to be allocated to county governments and I will continue to call for the same. If that is done, then you will no longer hear me complaining about anything. I don't have any personal problem with my brother the DP," he said.
-nation.co.ke