Video of the Day: Scary Footage of Nepal Earthquake Vigorously Shaking a Swimming Pool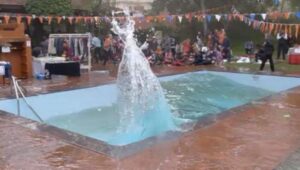 Nepal was yesterday hit by another earthquake, two weeks after the devastating 7.8 earthquake left thousands dead. About 68 were initially reported dead yesterday, but the number could rise sharply.
From the first earthquake, a video footage taken at a pool party has surfaced. It shows just how water behaves in such situations, and explains how tsunamis happen.
– nairobiwire.com