Video: Swahili Speaking American Couple In Boston with 'Ugali' number plate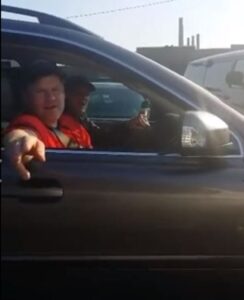 What if I told you that somewhere in America, someone is driving a car whose number plate reads Ugali. What's more is that he is not a Luhya but an American.
As unbelievable as that sounds it is true, as Kenyan born Atlanta based rapper K-Nel came to find out. Through Facebook, the 'Vera Shindika' rapper shared a video of the encounter and narrated how the couple asked him to pull down his window for a chat.
He said: "An American Couple Talking To Me In Fluent Swahili In The Middle Of The Highway, Their Vehicle Number Plate Reads "UGALI": Monday morning driving through crazy Boston Traffic and I see this guy urging me to pull down my window. 1st thing he says to me is "YOU SPEAK SWAHILI?". I replied yes and what followed caught me off guard. Him and his wife start vibing in Swahili telling me how they Love Kenya. The best was yet to come……THEIR VEHICLE NUMBER PLATE  READS "UGALI". I had to record them!!!"
Posted by Nelson K-Nel Muriuki
-nairobiwire.com