Photos:Chaos in Nyamira after rowdy youth gatecrash MPs meeting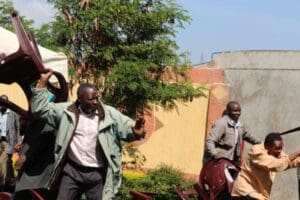 Chaos reigned in Nyamira town Monday after youth attempted to disrupt a press conference called by four MPs.
Heavy police presence thwarted efforts by youth to disrupt a meeting called to question corruption allegations against the county government.
A number of the youth were injured and some arrested during the incident at Guardian Hotel in Nyamira town.
The MPs led by Timothy Bosire (Kitutu Masaba), Charles Geni (North Mugirango), James Gesami (West Mugirango) and women representative Alice called the press conference to raise concern over various issues affecting the county.
Borabu MP Ben Momanyi and senator Mong'are Okong'o skipped the press conference and did not sign the statement.
The MPs defied the youths chanting slogans in support of Governor John Nyagarama and read a statement denouncing his government.
They claimed massive corruption, nepotism, mismanagement, political repression and incompetence was almost bringing the county to it's knees.
"All the residents want is a convincing assurance that ours is not becoming a failed county," said Bosire.
They further claimed that in three years, the county leadership has nothing to show despite receiving billions of shillings.
Chae and Geni said they will not be cowed or intimidated by the hooliganism.
"We are not going to be intimidated by anybody. We are also capable of hiring goons but we don't want to do it," said Geni.
Gesami, who is the chairman of the MPs, said efforts to have a dialogue with the governor have failed.
However, Governor John Nyagarama and county assembly speaker dismissed the claims as unfounded.
"The MPs started this war after I refused to employ some of their relatives. One of them has a brother employed here and another has a cousin as a chief officer," the governor said.
He denied hiring the hooligans who attempted to disrupt the press conference.
"It is the MPs who came with the hooligans. They are unhappy because we took a university to Kiabonyoru and not their constituencies," added Nyagarama.
-the-star.co.ke
Men fight after chaos broke out during a press conference addressed by four MPs from Nyamira County on Monday Photo/Angwenyi Gichana A man hurls a chair after chaos broke out during a press conference addressed by four MPs from Nyamira County on Monday Photo/Angwenyi Gichana Police arrest a man after chaos broke out during a press conference addressed by four MPs from Nyamira County on Monday Photo/Angwenyi Gichana