HERE IS THE 'RUDE' LETTER THAT LANDED MONICA JUMA IN TROUBLE WITH MPS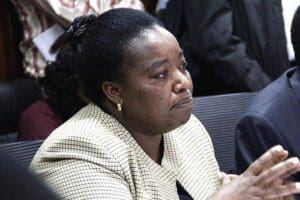 Here is  the letters addressed to Senate Clerk, Jeremiah Nyegenye in October 2014.
Dear Mr Nyegenye
RE: MANAGEMENT OF OFFICERS IN THE STATE DEPARTMENT OF INTERIOR
The Hon. Members of Parliament and Senators have time and again been visiting my office and making requests to have officers serving in this ministry, namely Field Administrative officers as well as uniformed officers appointed, transferred or retained in specific stations across the country.
I wish to indicate that hounouring such requests poses a huge challenge, in unsustainable and would in some cases constitute a breach of the Civil Service Code of Regulations, the provisions of the constitution as well as policy frameworks.
In the light of this, I address this letter to you to request that you kindly inform the Honourbale MPs and Senators about this challenge and reassure them the management of the Ministry of Interior and Coordination of National Government is committed to observe the procedures and fair administrative action as it relates to all staff within the confines of the law and laid down criteria.
We believe that this will contribute greatly to efficient service provision to the public across the nation.
In this regard, we urge the understanding and full support of our legislators on this matter. I thank you for your continued and convey compliments of my highest regard.
Yours Sincerely,
(Signed)
Amb. (Dr) Monica K Juma, MBS
Principal Secretary Interior