UJALUO GHARAMA!! You Won't Believe What Jalang'o Has Lined Up For Obama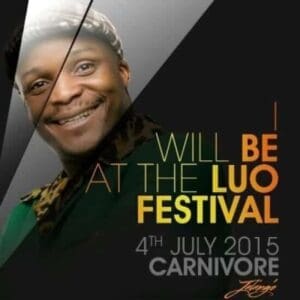 Luo festival is around the corner. What to expect? Nothing short of exuberance, flamboyance and opulence congregated under one roof!!
While some people will be busy complaining about the high gates charges, price list for drinks, #nairobifloods, being broke… Luos will have nothing but living the luxury while buying expensive drinks.
They say Luo is not a tribe; neither is it a community, it is a lifestyle and responsibility and true to that, Luo Festival has been labeled as 'Obama's pre-party', basically a party in his honor before sets foot in the country for 8hrs! Proper celebration of Luo Culture, a culture of class, Trendsetters, Pace Setters and the Learned" will go down, and everyone is invited, they don't discriminate.
Country's top comedians, artists and celebs from the Luo community will share the same stage.
On the lined-up entertainers will be;
Jalng'o
Erick Omondi
Dola Kabarri
Wilbroda
Makadem
Akothee
Lady Maureen
Suzanna Owiyo
-ghafla.co.ke