CCTV FOOTAGE:How Organized Gangs are Stealing Ladies' Handbags in Nairobi Restaurants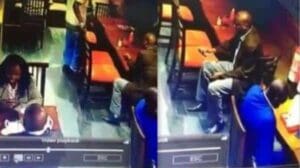 There are a lot of things that can take place in a restaurant besides eating and drinking. The unfortunate mysterious disappearance of one's belongings can also occur in a matter of seconds. Well on that note, a CCTV footage from Japanese Restaurant in town has exposed how an organized Nairobi gang made away with a customer's handbag that she had hanged on the chair she was seated on.
Unknown to the gang, the whole act was caught on hidden cameras installed in the restaurant. Below is the video clip showing how the gang calmly makes way with handbags of unsuspecting customers. Ladies, beware.
– nairobiwire.com