#ChaseStories:The Good Habit Series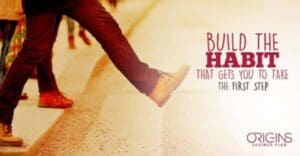 They say, "A journey of a thousand miles, starts with one single step." It doesn't matter how small, infrequent, wide, or long the step is because at the end of the day, all that matters is the fact that you had the courage and drive to take that one step.
It may not mean much to you; but when you look back and see where you started from, you will notice that it's because of that one step that you're now closer to your goal or whatever you want to achieve.
We understand that making the decision to take first step of the journey is always the hardest. That's why, we want to be with you as you begin your journey of saving and be there throughout your journey, until you reach your goal.
We want you to take that first step with us by signing up for Origins Savings Plan. The Origin Savings Plan will enable you to regularly put aside some money and watch it grow, as you gain interest (12.1% p.a). This plan also give's you access to loans (up to 90% of your savings). Therefore, you don't need to worry about tomorrow as your dreams and aspirations will be catered for.
And that's not all; the Origins Savings Plan gives you the option to pick from a one, two or three yeartenure plan, where you will earn and interest of 12.1% per annum. The interest will be calculated based on daily average balance and credited upon maturity of the plan chosen. To earn interest, your Origins savings account will need at least KES 2 000.
Are you ready to take your first step and begin your journey towards saving for tomorrow? All you have to do is,
Request application forms. You can request applications forms to be dispatched to you by:

Using our website chat feature from www.chasebankkenya.co.ke,
Filling in the form below and leaving us your contact details,
Calling us on 0730 175 000 or 0709 800 000,
Visiting any of our branches www.chasebankkenya.co.ke/visit-us.
We continue to encourage you to develop #TheGoodHabit today, and we'll be here to cheer you on. All you have to do is make that decision to take the first step towards your savings journey with us. Start saving today and get cover for the 'rainy' days, as we all know that's sure to come.
Ready to indulge in #TheGoodHabit that actually REWARDS you? What's in your one, two or three year plan? Leave us a comment.
For more information, Call: 0730 175 000, 0709 800 000 | Tweet: @ChaseBankKenya | Email:[email protected]