Garissa attack co-masterminds loses bond over killing of witnesses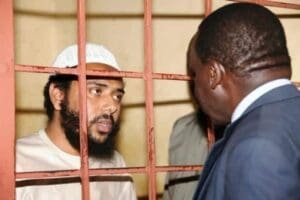 The High Court in Mombasa has cancelled a Sh10 million bond granted to Mohammed Khalid Ali who was charged with co-planning the April terrorist attack on Garissa University College.
The bond was cancelled after it was established that five witnesses who were to testify in his trial, were killed in the terrorist attack on a police vehicle on July 13 in Hindi, Lamu County.
The bond for the terror suspect was cancelled by Justice Martin Muya, the same judge who freed him.
According to police only one witness survived the rocket and gun attack and was transferred to Coast General Hospital in Mombasa for treatment. The other witnesses Halima Amin, Guthow Farah, Halao Abaya, Hawo Ali and Abaye Musa died when the police truck was attacked.
Khalid preached at the Mlango wa Papa Mosque in Mombasa's Old town until he was ousted by the mosque's committee last year over his alleged incendiary sermons.
Last week police said they had foiled a plot to free him through an attack on a vehicle transporting him from his cell at Shimo la Tewa Prison to the court in Mombasa.
Khalid, who was allegedly arrested with weapons about two months ago was granted a Sh10 million bond with two sureties of similar amount by Justice Muya mid this month. Lower courts had denied him bail.
The High Court order granting bail required him to deposit his passport with the courts, report to the police station on Monday, Wednesday and Friday and not leave Mombasa without permission of the court. The state was shocked by the bond and said it would seek to overturn it.
Yesterday, Justice Muya revoked the bond that he issued on July 14, 2015 after State prosecutors Daniel Wamosa and Jemi Yenina filed an application seeking to have it cancelled. And now he is set to stand trial while in custody at Shimo La Tewa.
"I have considered the submissions by the prosecution, and these are serious reasons that compel the court to cancel the bond issued earlier to the accused," said Muya.
The prosecutors told Justice Muya that five witnesses in Khalid's case were killed in an ambush by Al Shabaab sympathisers.
-standardmedia.co.ke