Hague case not key in Obama visit, says William Ruto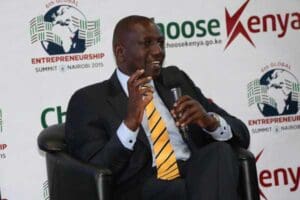 Deputy President William Ruto on Friday said his case at The Hague will not be under focus when US leader Barack Obama starts his three-day visit.
Mr Ruto clarified that President Obama was visiting Kenya to open the Global Entrepreneurship Summit and hold bilateral talks with the government on a range of key issues at the heart of the public.
He explained that his trial, over charges of crimes against humanity at the International Criminal Court, has never arisen since plans for the tour by the US President started early this year.
"We do not want to trivialise President Obama's visit with individual hypothetical issues.
"Do not confuse or cloud this visit with what it is not. Our focus as a country is not about this or that situation," he said in an interview with Voice of America (VOA).
Questions have arisen over the role Mr Ruto will play during the visit, given America's strong position on individuals who are facing trial at the world court on crimes against humanity.
US National Security Adviser Susan Rice said Mr Ruto would be present during bilateral meetings with President Obama and President Uhuru Kenyatta since. "He is a member of the government and so will be present at some of the events," she said.
On Tuesday, President Kenyatta dismissed questions regarding his deputy's role, stating that the US leader will be hosted by his government, of which Mr Ruto is a member. "As far as I am concerned, the President of the US is coming to attend the Global Entrepreneurship Summit.
"He is coming to meet the Government of Kenya and that includes the Deputy President," he said.
He went on: "The last time I checked, the Deputy President was still part of this government."
On Friday, Mr Ruto explained that the US President will be a guest of the government who will freely hold talks with its members. He said there were pressing issues that the American President will discuss with the government and other players such as the Opposition and civil society.
"President Obama and his team will be engaging with the Government of Kenya in addition to the Global Entrepreneurship Summit. This is what it is. We are happy and glad that we will be discussing that which is important between Kenya and US," he said.
He said his trial at The Hague never arose during planning for the meeting. "The issue wasn't part of discussion when this meeting was being planned," he said.
-nation.co.ke