Kenyan woman collapses,dies at Newark airport on the way to visit family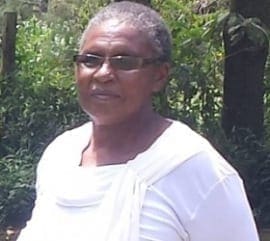 It is with a truly heavy heart that we confirm the tragic loss of Evaline Sigei, a wonderful, beloved woman, and a special mother last Thursday July 23, 2015 afternoon.
Mr/ Mrs Richard Sigei left Nairobi, Kenya on the Wed 22, at 10 pm for Charleston, SC to visit their son Evans Langat and his family. Their itinerary included stopovers at Brussels airport, Belgium, and Newark airport, NJ. While waiting for a connecting flight at Newark Airport, Evaline collapsed and emergency responders initiated CPR, and was transported to Trinitas medical hospital in New Jersey. The medic efforts to resuscitate her were in vain.
To only say she will be greatly missed would be a great understatement. Evaline Sigei was such an inspiration and though her untimely death is so unjust in our eyes, this world is a much better place because of her. She will surely never be forgotten.
The task at hand is momentous. We can't do it alone. We are asking for your prayers and financial support so that we can make this final trip with our beloved Evaline to her home in Tulwet, Bureti, Kenya, and honor her the way that she has honored so many over the course of her life.
Make donations through:
Wells Fargo Acc: 5318896510. Janet Surum
God bless you all.
Thank you for your prayers & support!
-samrack.com