Muthaura, Kimemia to testify for Ruto at ICC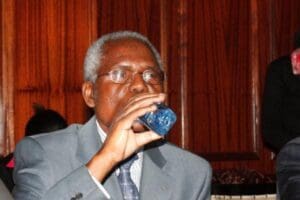 TOP government officials ? some of whom allegedly tried to "fix" Deputy President William Ruto — have agreed to testify in his defence at the ICC.
In a surprising turn of events, suspended Defence PS Mutea Iringo, former Civil Service Chief Francis Kimemia and his predecessor Francis Muthaura are among those who will testify in his trial at The Hague. Also in the list is President Uhuru Kenyatta's Political Adviser Nancy Gitau.
Ruto is charged with crimes against humanity, as an indirect co-perpetrator, in connection with the 2007-08 post-election violence, accusations he denies. Sources told the Star the witnesses would aim to convince the judges that after the violence, ODM and PNU were so bitter that each tried to "turn" people on the other side. In the process, some people were influenced to testify against the DP, the sources said.
"It would be a dramatic confession that even witnesses who appeared before the Waki Commission were coached and bribed to do so," a source who spoke on condition of anonymity said.
Their testimony is considered critical since part of the the Waki report on the violence has also been admitted as evidence against Ruto and his co-accused, broadcaster Joshua Sang.
More than a year ago, Ruto named Iringo, Gitau and former Justice minister Martha Karua as among close confidants of retired President Mwai Kibaki whose alleged backstabbing landed him at The Hague.
"Did you know that for some witnesses who testified or gave a statement to the Waki Commission, the monies for their witness protection was being disbursed by Mutea Iringo and Nancy Gitau?" Ruto's lawyer Shyamala Alagendra asked a Prosecution witness in 2013. Shortly thereafter, Iringo threatened to sue Ruto, his boss, for what he termed a "libellous attacks on my name and integrity". Yesterday, Iringo and Muthaura did not answer phone calls or responded to text messages.
Kimemia was named by ICC Chief Prosecutor Fatou Chief Bensouda as among high-flying State officers who were allegedly central in planning attacks in the Rift Valley. He has been fired from government. Muthaura, who was charged at the ICC alongside Uhuru and former Police Chief Hussein Ali, is now chairman of the Lamu Port and South Sudan-Ethiopia Transport (Lapsset) Corridor Development Authority.
Inquiries by the Star indicate that the defence of both Ruto and Sang intend to call more than 100 witnesses to counter the prosecution's case.
So far, Bensouda has called 29 witnesses. However, defence witnesses would only take to the stand if the trial judges reject Ruto's and Sang's no-case-to-answer motion.
It is said Bensouda's recent admission that her case had been punctured by the withdrawal of many witnesses has raised their hopes the case could be dismissed before full hearing. She says witnesses have been bribed or intimidated to withdraw their cooperation or recant their earlier statements.
"If the prosecution request for the admission of prior recorded testimony of witnesses is dismissed, then Bensouda has no case," another source. said.
A ruling is expected before July 16. Initially, URP lawmakers were pushing for Cord Leader Raila Odinga to testify in favour of the DP.
Their clamour has subsided, however, as Ruto and Raila have exchanged bitter words over the ownership of Weston Hotel. The former PM has demanded the hotel be demolished and Ruto step aside during investigations into how the land was acquired.
Sources said Ruto is still targeting a section of the now-defunct ODM Pentagon's members to take to the witness stand and defend him over the deadly violence in his Rift Valley backyard
. Raila, Amani leader Musalia Mudavadi, Mining CS Najib Balala, former Minister Joe Nyaga and suspended Lands CS Charity Ngilu were among the Pentagon members that campaigned vigorously to oust then-President Kibaki.
– the-star.co.ke