Video:Diaspora High-Flying Kenyan Model Buried On Her Birthday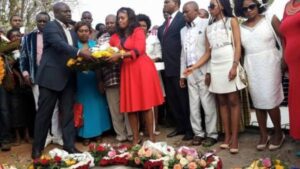 The mood was somber and those who attended the funeral were all dressed in red and white instead of the classic black as per the wishes of 22 yr old Linzie Mumbi Ngarari.
Linzie, a former miss UK contestant and a child model passed away on Sunday 28th June 2015 in Birmingham UK. This was after a short illness and was buried recently at her hometown in Embu County.
Apart from the different choice of color, Lizzie also had another request, that she be buried on her birthday.
The extremely beautiful girl was the daughter to Dr. Jane Ngarari of Birmingham UK, Eliezer Njue Ngarari, Nakuru County Government Director of Procurement and the sister to Makena Ngarari of University of Reading, UK .Her mother dad and sister gave poignant last speeches about their loved one that moved the crowd to tears.
For those who do not remember Linzie,she did various Kenyan adverts as a youngster back when she was in Kenya appearing in Ribena Billboards , Aquafresh ads and even the Yellow Pages. Check out some photos of the fallen beauty next.
– ghafla.co.ke