Video:Is this the opposition leader President Obama took a swipe at today?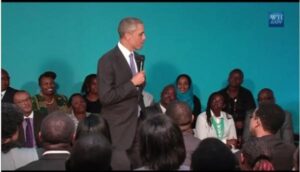 Speaking at a forum with the civil society, President Obama said he met with the Opposition earlier Sunday and told them there was a legally elected government and the US would work with the current regime.
"But we are also always going to be listening to all elements of the Kenyan society. It's funny though that one of the Opposition leaders – I won't mention who – was saying we really need you to press the Kenyan government on some issues and I had to say to him, I remember when you were in government kept on saying why are you trying to interfere with Kenya's business? You should mind your own business.
He said everyone wants the US to be very involved when they are not in power but when in power want the super power "to mind its own business."
He said America would continue to be honest and to promote the kinds of policies and interests they believe in.
In 2009, Mr Moses Wetangula told off the US asking them not to meddle with Kenyan govt affairs. Mr Wetangula had told the US they have a meddlesome attitude.
Mr Wetangula, Mr Kalonzo Musyoka, Raila Odinga and Martha Karua met with Mr Obama earlier on Sunday morning.
-jambonewspot.com
Wetangula tells off US