Aden Duale claims former PM Raila Odinga owes Mumias Sh40M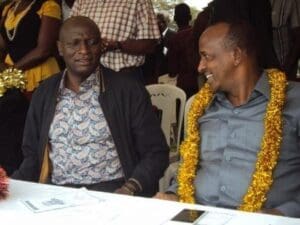 KERICHO: National Assembly Leader of Majority Aden Duale and Kericho Senator Charles Keter have sensationally claimed that former Prime Minister Raila Odinga's family owes Mumias sugar factory Sh40M.
The two leaders called on the CORD leader to offset the debt before criticising the move by government to open importation of sugar from Uganda.
"Before the Western Kenya MPs can even turn down President Uhuru Kenyatta invitation to Statehouse for talk over sugar importation, they should go to the former Prime Minister's office and demand that he writes a Sh40M cheque his family owes Mumias Sugar Company," said Duale.
He pointed out that the Jubilee government had issued Sh1B to bail out the company adding that the CORD leader must pay the debt as government rolls out a strategy to revive the sugar sector in western region.
On his part, Keter argued that the President could not bind the country to a detrimental trade agreement.
"The trade agreement for sugar importation was above the board and it's for Kenyan's benefit. However, before some people can take time to understand it, they are quick to make noise about it. There should be no alarm in the first place since every agreement has to be brought before parliament for scrutiny," he said.
The Kericho Senator asked farmers in the sugar growing areas of Soin/Sigowet constituency to support the Jubilee government sugar deal saying local sugar factories such as Miwani, Muhuroni had been run down.
Keter said instead of the former PM criticising the agreement, he should commend the government efforts to revive the sugar sector and offer strategies of how to revive Mumias among other sugar companies in the country.
"Since the government released Sh1B to bailout Mumias Sugar Company, the former Prime Minister has not even on a single occasion commended the government for making effort to revive the sugar sector," said Keter.
They made the remarks during a fundraising at Borborwer Secondary School in Belgut constituency in Kericho County. Area Member of Parliament (MP) Erick Keter, Leonard Sang (Bureti) and Moses Cheboi (Kuresoi South) attended the function.
Duale further claimed that Odinga's issue with the sugar deal was in retaliation for being denied a heft pension he ought to be enjoying after serving as the country's PM.
"The CORD leaders, Odinga and Kalonzo Musyoka wanted pension. When the matter came up in parliament, it was rejected. I told them that if they want to enjoy the money they must retire from politics because you cannot use public money to play politics. From there, they lost their minds," he said.
-standardmedia.co.ke