Former State House Comptroller opens up about fall out with Lucy Kibaki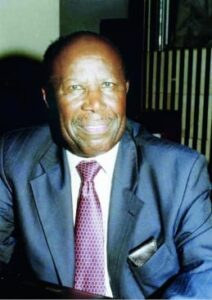 Former State House Comptroller Matere Keriri, who doubled as private secretary to then President Kibaki, opened up in a candid interview with The Standard on Saturday about his time in the house on the hill.
Mr Keriri, a confidant of Kibaki, also narrates how he was forced to quit his job following a fall out with the then First Lady Lucy Kibaki.
For the former State House Comptroller, holding two positions at a time when the Head of State was recovering from a road accident was a daunting task. Beside his regular duties, he was also tasked with ensuring that Kibaki received medication on time.
"I held two jobs. Today, those jobs are held by two people. The first was Controller of State House and the other one was Private Secretary to the President, now referred as Chief of Staff," Keriri says.
As a private secretary, Keriri was ultimately the diary and gate keeper of the president—ensuring that his programme ran flawlessly. "As the private secretary, you are in charge of the president's diary . . . making sure that the president is where he is at the right time, that the presidential command and escort unit was properly organised and so forth. You are also with the president all through; that is why you call this post the gatekeeper."
Being very close to power, the former assistant minister says government ministries and departments always played a crucial role in contributing to major decisions made by the president.
He says Kibaki never made a decision without consultation; he was a team leader and keen listener to advice.
"Every team has a leader just like football, but the captain will not win alone but as a team. Kibaki was that kind of a leader. He allowed his ministers to do what was correct. He never shouted at a minister."
"But Government is not just about State House. We actually gave him advice which was drawn from various departments of government ministries. You conduct research and keep yourself abreast with ministries and their departments because these are the people who have proper information. You cannot just wake up and tell the president. 'let us sack a minister,' or something of that sort," Keriri narrates.
But how did he manage to meet the former president's expectations with the pressure that came with the job?
"Like other jobs my job was high pressure. But if you have experience you don't feel undue pressure. I enjoyed my job because I had worked in the public service for so long to understand what Kenya needed. I had been in government for 40 years," he says.
Having worked with the former Head of State in various capacities, Keriri says they developed a solid relationship and this may have contributed to his appointment. Kibaki, he says, trusted him. Their friendship, he recalls, dates back to 1959 when he was a student at Makerere University. Kibaki was his lecturer after studies at the London School of Economics.
"He taught me Economics at Makerere University. During holidays, we could hang out as young people. Our relationship grew from that point."
But even after university, they managed to meet several times as both served in senior government positions.
In 1960, Kibaki left Makerere to become Kanu's first Executive Officer and later served in the new Jomo Kenyatta-led administration in 1963.
In 1969, Kibaki was appointed Minister for Finance while Keriri served as the finance secretary at The Treasury.
"I have known him for decades now. . . I was at Treasury only three months before him as assistant secretary before he was appointed assistant minister and we worked together until 1965 when he became Minister for Commerce and Industry," Keriri recalls.
He continues: "In 1967 he came back to Treasury as Finance Minister and we worked together until I left and became CEO of Development Finance Company of Kenya."
But he reveals that when he was appointed as State House Controller just after Kibaki won the presidential elections in 2002, he ceased having a private life. He relocated to State House and would rarely spend time with his own family.
"I lived  in State House. You must appreciate that Kibaki started his job when he was unwell. It was a difficult job. You have a duty to facilitate performance of duties that belong to the president; organise his treatment, state functions, his dealings with ministries and departments . . . I had to make sure foreign visitors come when he was comfortable."
His job therefore began at 6 am and ended at 6 pm but he would stay at State House thereafter in case of emergencies.
"I was with the president throughout. From the time he woke up—we would go for lunch and dinner together; I would stay up with him in the evenings and make sure the doctor was present to administer treatment."
But even with this kind of dedication, Keriri left State House ignominiously.   He agrees that he left State House under a cloud after his relationship with the then first lady Lucy Kibaki turned sour.
"The relationship between the First Lady and I became rather strained, therefore, I did not leave State House in a formal or normal way. I left State House because the First Lady was not comfortable with me," Keriri says.
He thinks the First Lady might have felt uncomfortable with his closeness with the president, since his roles even crossed over to the first family's private life. But he insists that his was a genuine endeavour to make Kibaki's presidency a success.
Keriri says although the former president, who  was  recovering from illness, was opposed to his resignation,  he quit anyway.
"I was away for three weeks to have some time alone but after some time he (Kibaki) asked me to go back and work in Harambee house, I did not find it comfortable."
After a series of consultations, Keriri was appointed the CEO and Executive Chairman of Electricity Regulatory Board now Energy Regulatory Commission.
But even after retiring from the energy sector, Keriri has always been in touch with Kibaki. They are good friends, he says. "With Kibaki I enjoyed my job. It gave me the opportunity to know him more. I don't think people know Kibaki enough. He loves his country very much."
-standardmedia.co.ke