PHOTOS:Isaac Ruto Buys Ugly Pick Up Trucks, Launches them as Bomet Fire Engines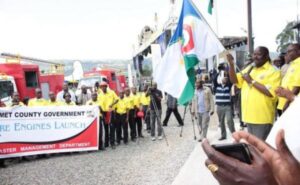 Bomet governor Isaac Ruto last week launched 3 'fire engines' for his county.
It was an elaborate ceremony, but he should fire his PR because we're just learning of that. Unlike Mutua's, they've not learnt how to put their governor on the headlines.
Anyway, there's a debate on Twitter as to whether what he really launched are fire engines. They come in an odd shape and are considerably small.
Honestly, it looks like someone bought a TATA truck and put a water container at the back.
A figure of Sh21 million is being thrown around on Twitter, but I would want to believe that's the cost of all three. Otherwise the auditor general has his work cut out
All in all, think functionality is what matters, and if they'll put out a fire, that's a very commendable move. But Kenyans on Twitter do not hold a similar view (Many of whom did not have the facts)
-nairobiwire.com