Photos:Uhuru meets Kenyans living in Uganda,address Parliament today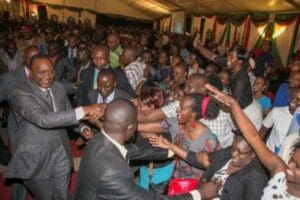 Kenyans and Ugandans have been urged not to view each other as competitors but a force that can compete favourably with the rest of the world.
President Uhuru Kenyatta said the "complementary" countries are in the frontline of furthering and deepening their business partnerships.
Uhuru challenged government bureaucrats to stop being an impediment to regional efforts of integration and facilitate free movement for business.
They endanger the stability of the region "by putting obstacles to integration as the large EAC youth population can easily be misused for destructive activities", he said.
"You who are in positions of leadership in government should never look at the narrow aspect of doing things. You should not look at a Ugandan coming to Kenya or a Kenyan going to Uganda as an individual who has come to take jobs for your citizens," he said.
"You should instead see how you can facilitate our people and the region to become globally competitive. Look at how you can help the Ugandan and Kenyan business communities to be globally competitive to create jobs for our youth."
Uhuru, who will address Uganda's parliament today, addressed the Kenyan diaspora in Kampala on Sunday evening, as part of his three-day state visit to Uganda.
Citing the need for inclusive growth in the two countries, he said the key to unlocking the East African Community's potential lies with its leaders and the people.
He noted that Kenya and Uganda enjoy unique relations adding that he is keenly following up on integration.
This, he said, will deliver the region and Africa from the "yoke of economic strangulation".
Uhuru said it is only through partnership and integration that Africans will be able to gain the prosperity that their citizens desire.
He said countries cannot separate as communities no longer recognise boundaries created by the colonialists, adding that they reminded citizens of their difference so as to continue dominating.
"The divide and rule tactics introduced by the colonialists managed to rule Africa, but once the indigenous people realised the importance of their unity it was impossible for the white man to continue ruling them," he said.
Uhuru toured a pharmaceutical plant, which specialises in the production of the latest ARV and malaria medicines on Sunday morning.
The plant, owned by Cipla Quality Chemical Industries, manufactures 80 million tablets a month; plans to bump production to 100 million are underway.
It was established in line with the Pharmaceutical Manufacturing Plan of Action and Millennium Development Goals, which aims at providing affordable, newer and safer medicine for the poor.
The company focuses on HIV/Aids and malaria as Africa's biggest challenges.
Uhuru was accompanied by Foreign Affairs CS Amina Mohammed, National Assembly majority leader Aden Duale and Nairobi Senator Mike Sonko.