Photos/Video:Kenya blows up luxury yacht with Sh20 million heroin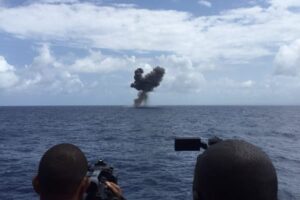 Bomb experts from the KDF detonated explosives in a ship containing heroin valued at Sh20 million, sinking it into the Indian Ocean.
They carried out the exercise on Friday, in Baby Iris, the Sh28 million luxury yacht intercepted in April, following chemists' confirmation of the narcotics.
The ship is believed to be owned by a Briton.
Five crew members were arrested with the drugs, in the vessel that was moving among Seychelles, Kenya and Tanzania.
Police said the suspects, four Kenyans and a Seychellois, are part of an international drug-trafficking syndicate.
Interior CS Joseph Nkaissery will oversee the sinking of the ship, the second such operation, in the war against illegal drug trade.
In 2014, President Uhuru Kenyatta oversaw the destruction of the stateless Al Noor ship with 370 kgs of heroin.
He was aboard a military chopper 16 nautical miles south of Mombasa.