Photos:Wanjau arrested for refusing to release Sh2.8 million baby surgery fund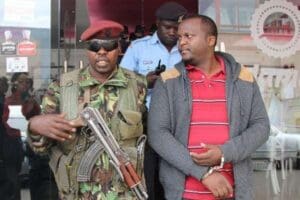 NGO founder Benson Wanjau was arrested on Thursday for allegedly refusing to release Sh2.8 million for a baby's surgery overseas.
Wanjau was arrested at ABC Place in Westlands, Nairobi, and taken to Muthangari police station, over the case that CID Director Ndegwa Muhoro is expected to take up.
The detectives who arrested the Hope Foundation CEO said the baby only required Sh700,000.
On Tuesday, Murang'a county police commander Naomi Ichami said Wanjau's three accounts were frozen amid a search for him.
Ichami said an Equity Bank and M-Pesa accounts, and the paybill number Wanjau used to raise money for 15-month-old Fidelis Muthoni, have been blocked.
Muthoni suffers from a frontal bone defect known as Encephalocele, and was due for surgery in Canada on Tuesday.
Her family said a team of doctors from Canada had offered to treat her for free if they paid for her flight and six-month stay.
Ichami said at the time the accounts were being frozen, the one at Equity Bank had only Sh173,000 while the M-Pesa account was active but empty.
Muthoni's family said Wanjau, a close relative, volunteered to conduct the funds drive, but the money was withdrawn without their knowledge.
"The paybill account number transcripts that we got from Safaricom indicated that Sh2.8 million had been deposited into the account and later withdrawn," said Muthoni's father Kenneth Kinuthia.
Kinuthia added that he had given Wanjau Sh155,000 to deposit into the account.
He said Wanjau opened paybill account number 317081, posted his daughter's photographs on social media and sought financial assistance.
In a post on his Facebook page, 'Wanjau Alejandro' said the allegations were false, and that he had dedicated months of hard work to assisting the baby.
"It is worth noting that organising such a successful fundraising costs money for TV airtime, sponsoring videos and pictures on social media, administration and organising field events," he said.
He apologised for being unreachable by phone saying "I couldn't handle the overwhelming calls after the allegations were published on the media".
– the-star.co.ke