Raila sacked me for cancelling sugar cartels licenses, Ruto says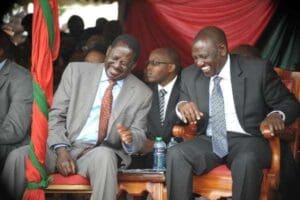 Deputy President William Ruto has said sugar cartels used the Prime Minister's office to orchestrate his removal as Agriculture minister.
He said his removal was planned because of Gazette notice 3977, which he signed, saying it cancelled the cartels' licenses thereby ending their schemes.
Ruto asked Cord leader Raila Odinga to explain how he spent the money he owes sugar cane farmers.
"Now that my friend Tinga admits owing peasant cane farmers millions, can he explain why he didn't take this 'commercial loan' from a bank?" he posed via Twitter on Tuesday.
"While in western (essentially meeting with creditors) aside from rhetoric, I hope Cord presents a credible repayment plan of admitted debts."
Raila earlier described the DP as "the high priest of corruption in Kenya", in an unprecedented escalation of the war of words over the Uganda sugar deal.
He accused Ruto of being the architect of the problems facing the sugar industry because he allegedly issued import licences to sugar barons when he was Agriculture minister.
National Assembly majority leader Aden Duale also poked the Cord leader over the matter saying "after being cagey and evasive for months, Raila has confessed that he owes the poor sugar cane farmers what he casually and callously terms a commercial loan".
Speaking during a press conference on Tuesday, Duale asked Raila if obtaining the loan was an attempt at "evading the debt recovery mechanisms of commercial banks, which the poor farmers do not have".
Duale accused Raila of being an "inert bystander at best, or a conspirator of the sugar cartels as farmers of Western Kenya and Nyanza suffered".
"His melodramatic lamentations are nothing but a torrent of crocodile tears meant to deceive farmers and portray him as a defender of their rights," he said
He said Raila's politicking is "despicable" and "fraudulent" and must be condemned by all people of goodwill.
"It is clear that the Lord of poverty has been thriving on the same dynamic which impoverished hard working farmers," Duale said, adding that Raila "fashioned himself as their only saviour from the suffering and marginalisation which he caused".
Duale said Raila has not explained his role in the failures that brought the sugar industry "to its knees, causing massive suffering in a region he claims to represent".
"All Cord and its leader Raila have done so far is point fingers, cast blame, misinform, and compound the despondency already weighing down the sugar growing community," he said.
"It is important at this juncture, therefore, to call out Odinga on certain blatant misrepresentations in the interest of truth, and to warn him that the time of leadership by deception, fraud and exploitation is over."
The Garissa Town MP said Raila's "attacks on Ruto are unwarranted, malicious, extreme and unhelpful in bringing the light of truth to the discussion of sugar industry problems".
He said it has been established that at the time Ruto was appointed Agriculture minister, farmers were being paid a "paltry" Sh2,500 for a tonne of cane delivered to the factories.
"Because of interventions under Ruto's leadership, including the cancellation of sugar permits of known sugar cartels, barons and brokers, within a year, sugar factories were paying farmers an average of Sh3,800 per tonne," he said.
"Ruto took bold and decisive initiatives, including the Gazettement of new and stringent regulations to manage importation of sugar and the protection of the farmers".
Duale further defended the DP saying he confronted sugar importation and smuggling cartels which dumped cheap products in the market, shortchanging hard working farmers.
"It is a fact that this threat to the monopoly and liquidity of sugar barons affected Odinga's personal interests, leading to the unfortunate removal of Ruto from the Ministry of Agriculture," he said.
Cord is planning a series of rallies in Western and Nyanza to explain to sugarcane farmers what the Uganda sugar pact means to them.
– the-star.co.ke