Uhuru vetoes MPs' bid to fire EACC secretary, deputy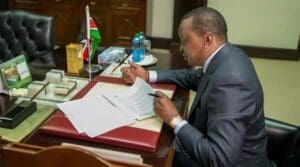 NAIROBI, Kenya, Aug 5 – President Uhuru Kenyatta has rejected an amendment to the EACC Act in which Members of Parliament wanted the commission's secretary Halakhe Waqo and his deputy Michael Mubea sacked.
Deputy Speaker Joyce Laboso told the MPs that the President had written to the House expressing his reservations to the amendment which was proposed by National Assembly Deputy Minority Whip Chris Wamalwa.
"His Excellency the President, by way of memorandum has since referred the Bill back to the National Assembly for reconsideration. The President has expressed reservations on Clauses 4 and 6 of the Bill. Consequently the President recommends amendments to the two clauses," Laboso said.
The National Assembly has 21 days to dispense with the matter. The House will be required to marshal two-thirds majority of MPs to override President Kenyatta's veto.
The National Assembly last month passed amendments to the EACC Act providing for the vacation from office by the EACC secretary and deputy and recruitment of EACC Commissioners to be directly done by the Public Service Commission among other proposals.
-capitalfm.co.ke