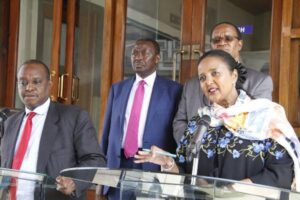 President Uhuru Kenyatta has challenged the opposition to engage in positive criticism instead of engaging in unproductive talk. The President who was addressing the Pan African Congress told off opposition leader Raila Odinga for citicing the decision by the government to import sugar from Uganda.
President Uhuru Kenyatta has responded to backlash from Cord leader Raila Odinga saying he "would rather import sugar from Uganda than Brazil".
Uhuru said the new deal with Uganda is key to addressing Kenya's shortfall as the product is cheaper there.
"To my elder brother Raila, don't criticise me for the sake of it," he said, adding that the opposition should not lash out over deals made during his state visit to Uganda.
"If you want to accuse me of something, do it, but correct me where I am going wrong, don't take me back."
He made the remarks when he presided over the closing of the Eastern Africa Regional Pan African Congress at the KICC on Wednesday.
Uhuru said criticism should be backed by the agenda of building the nation, not destroying it.
"We have two options. We can either seek the future we want together or just sit back and complain," he said
Uhuru added that the free movement of people and their goods across Africa will enhance the growth of the economy.
"We should ensure Africans visit other African countries, not as refugees but on vacation. The Africa we live in today is more democratic than the Africa of 50 years ago," he said.
"It is only we who can build and strengthen our nations and shape the African economy to prosperity. Our nations can move from great poverty to great wealth".
But Foreign Affairs CS Amina Mohamed said no deal with Uganda has been signed.
Amina said the only deal signed was between the Kenya Chamber of Commerce and Industry and its equivalent in Uganda.
In a press conference on Wednesday, she noted that the deal, which she said did not involve sugar, will be made public later today.
Following a business forum in Kampala last Sunday, Amina had cited a delay in processing of sugar permits following reorganisation at the Kenya Sugar Board.
The reorganisation saw the organisation merge with other agriculture-related parastatals to form the Agriculture, Fisheries and Food Authority.
"There was a technical problem in processing of permits but I would want to assure the government of Uganda and the private sector that the issue has been dealt with," she said.
"We will meet in Nairobi in coming days to lay down long-term solutions so that this problem does not recur."
Following Uhuru's visit, Kenya agreed to give Uganda permits for sugar exportation, and ease barriers to allow the country, which is one of its key trading partners, sell its surplus locally.
The trade deficit between Kenya and Uganda remains high in favor of the former. Kenya exports to Uganda currently stands at Sh70 billion ($700m) with Uganda's at Sh17 billion.
Raila termed "dangerous and reckless" some of the trade deals signed by Uhuru Kenyatta and Uganda President Yoweri Museveni.
He added that the government's deals with other countries are "made through single sourcing and shrouded in secrecy", and asked for the revelation of their details.
"We have reason to suspect that personal business interests are colliding with official duty to override propriety and accountability on matters of bilateral trade," he said in a statement to newsrooms on Tuesday.
He said the revelation of the details of all deals Kenya has made with other countries will allow scrutiny of benefits to workers, farmers and taxpayers.
Uganda Sugar industry statistics
1. There are about six major sugar firms in Uganda. These include Kinyara, Lugazi, Kakira, Kaliro, Mayuge and Sugar and Allied Industries.
2. Uganda's current per capita sugar consumption is about 15kg per annum – with about 350,000 tonnes of raw sugar consumed annually. Demand is forecast to double by 2030.
3. Kakira Sugar Works produces an estimated 165,000 metric tonnes of sugar annually while Kinyara produces over 110,000 metric tonnes annually. Lugazi produces over 60,000 metric tonnes per annum.
4. One of the new entrantsMayuge Sugar Industries the newest started in 2010 with installed capacity of 500 tonnes of cane crushed per day. It has since expanded to 3,500 tonnes of cane crushed per day working closely with over 8,000 out growers.
5. The national sugar policy was formulated in 2010 to address the gaps that exist in the 1938 Sugar Control Act. Among other things; the policy says there should be a 35km radius between two factories. The other concern is the poaching of staff.
6. In 2011, prices of sugar hit a record high of between sh7,000 and 10,000 per kilogram up from an initial sh2,500 in most markets across the country.
7. The increased competition has also returned stability to the price of sugar for the household consumer, with a kilo averaging about sh2,800 from over sh10,000 about two years ago during a major sugar crisis.
– the-star.co.ke