Video:Museveni tells off Raila Odinga over sugar imports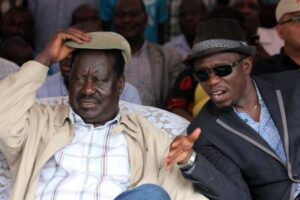 Ugandan President Yoweri Museveni on Friday told off Cord leader Raila Odinga for opposing the sugar deal with Kenya saying the former Prime Minister was wasting his time.
President Museveni spoke as Mr Odinga started public rallies in western Kenya where he claimed that the sugar came from Brazil, and not Uganda.
Addressing the East African Legislative Assembly in Kampala, Mr Museveni said the people blocking the deal "do not know what they are talking about".
Saying prosperity and security were essential to regional integration, Mr Museveni said Kenya was blocking Uganda's sugar and maize yet Kampala for many years had been supporting the prosperity of Kenyans by buying its goods.
"You are a director and your job is to block and direct Uganda sugar away yet Uganda is supporting your prosperity for all these years? What sort of logic is this?" he asked.
He said he was very happy with President Uhuru Kenyatta for telling his directors "to become directors not misdirectors."
"I was surprised that my brother Raila Odinga was attacking the sugar deal…I will have to ring him and tell him please don't waste our time. Ugandan sugar should go to Kenya without hindrance as Kenyan goods coming to Uganda without any hindrance," he said.
President Museveni urged East African Community member states to buy Ugandan sugar, saying it was the only way to help it forget its past.
"The community needs to buy Uganda sugar otherwise the industry will die and it will be a problem. Uganda has risen from the dead, now it's producing sugar, milk, beef, maize and other products," he said.
Mr Odinga has opposed the sugar deal, claiming that it could lead to the collapse of the already ailing Kenyan industry. He accused President Kenyatta of being led by personal interests in the deal.
President Museveni said Kenyan exports to Uganda are estimated at $700 million up from $200 million in 1986 compared to imports worth $150 million up from $12 million in the same period.
He thanked President Kenyatta for agreeing to remove non-tariff barriers, deepen commercial ties and widen the regional market of 150 million people.
Uganda produces about 465,000 tonnes of sugar annually against a consumption of 320,000 tonnes, leaving it with a 145,000-tonne surplus.
Kenya produces an average of 600,000 tonnes annually but consumes between 800,000 and 850,000 tonnes. That is a deficit of between 200,000 and 250,000 which must be imported.
But in Busia, Mr Odinga claimed Uganda was being used as a transit point for cheap sugar imported from South America. He accused Presidents Kenyatta and Museveni of protecting the sugar barons involved in the business.
Mr Odinga was scheduled to address other rallies in Chemelil and Muhoroni.
Next weekend, he will be in Bungoma and Kakamega counties.
Mr Odinga claimed the imported sugar was loaded on holding ships in the Indian Ocean and then brought to the port where it is cleared and escorted to Uganda from where it finds its way back into Kenya.
Uganda, he said, cannot satisfy its own domestic demand for sugar and it was ridiculous for the Jubilee leadership to deceive Kenyans that the country was in a position to supply Kenya with its surplus sugar.
Reacting to Deputy President William Ruto's charge that he (Odinga) is the lord of poverty, the Cord leader said: "Yes, I'm the lord of poverty because I speak for many poor people while he (Ruto) is the high priest of corruption because he speaks for wealthy people with ill-gotten wealth."
The sugar rallies are an outcome of the opposition's protest against what they say is a deal signed on August 11 when President Kenyatta visited Uganda.
But the government has repeatedly denied that any deal was signed. On Thursday, Cabinet Secretaries Adan Mohamed (Agriculture) and Amina Mohammed (Foreign) explained that what was agreed was the removal of non-tariff barriers which were blocking trade between the two countries.
The net effect was to make it easier for Ugandan exporters to acquire import licences to bring sugar into Kenya. In turn, Kenya's beef and dairy products will easily find their way to the Ugandan market.
ODM secretary-general Ababu Namwamba said: "We ask the president that next time he visits Uganda, he should seek to bring us back Migingo….anything else, no deal" he said.
ODM chairman John Mbadi alleged that successive governments since independence had impoverished the region by killing its major industries.
Busia Senator Amos Wako said there was a systematic plot to economically disable people in Opposition strongholds.
In Nairobi, National Assembly majority Aden Duale said he had evidence to prove that Mr Odinga has not paid debts he owes Mumias Sugar Company.
"I have documents that include demand a letter for repayment of the debt by the Cord leader and I hope he will use his visit in the region to pay the debt or give his repayment plan," he said.
But speaking in Chemelil in Kisumu on Friday, Mr Odinga challenged Mr Duale to table the evidence. He said he does not owe Mumias a single penny.
Others who spoke at the rally were MPs Junet Mohammed, Anami Lisamla, Gladys Wanga, Busia governor Sospeter Ojaamong his Siaya counterpart Cornel Rasanga.
-nation.co.ke