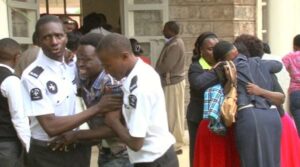 Grief as parents identify bodies of pupils who drowned in Diani
NAIROBI, Kenya, Aug 14 – Seven coffins lay on a table; inside each one, the body of a child, in a body bag.
"We need to do this quickly," a morgue attendant shouted. "The bodies haven't been preserved."

And two by two, as the story of Noah's Ark goes, they approached the coffins whose lids were lifted one by one and peeked inside.
Inside them lay the bloated bodies of their sons whose bodies they would take away with them once it was determined in which coffin they lay.
But it didn't happen quite as clinically as that. When the parents came across the right body, the sound was unmistakable.
There came a high pitched scream followed by wails of, "why did I let them go on that damned trip anyway."
And one by one they came out again, men and women, wailing, supported by either by family and friends or the St. John's volunteers at hand.
They buried their faces in their loved one's bosoms and had their backs rubbed in comfort.
Later they sat down on the grass outside the Kenyatta University morgue chapel in which their children's dead bodies lay, trying to regain some composure.
"He was to come home tomorrow," Virginia Irungu told Capital FM News, dazed.
The last time she spoke to her son was last Sunday at noon, the day before he and his classmates left for their school trip to Diani. "He called to ask me why I hadn't sent him swimming trunks."
Next to her, on the grass, sat her cousin Stephen Kariuki, he wanted to know why the teachers who accompanied the St. Martin's Murang'a Standard 8 candidates to the beach on Wednesday evening, at high tide, didn't rent floaters for the boys who couldn't swim.
"He couldn't swim. There should also have been life guards on the public beach. You know how it is when people from bara (the hinterland) see the ocean."
Virginia's son wasn't the only one who couldn't swim, a stone's throw away from her, another grieving mother sat on the grass and her son couldn't swim either.
But it hadn't been his first school trip to the coast so the thought that he would be returned to her in a body bag hadn't crossed her mind. "He first went with the school when he was in class six. This was meant to be a refresher (sic) before they sat for the KCPE later this year."
Her husband sat away from her, on a pile of building stones, head in his hands; evidently unable to wrap his mind around the tragedy that had befallen their first and only 14-year-old son, either.
Julius Kariuki had been an orphan and so no parents sat out on the grass mourning his loss. Only his grandmother, Rosemary Nduire, cried for him.
"I couldn't afford the Sh9,000 for the trip but I didn't want him to feel sorry for himself because he doesn't have parents so I took a loan from my chama. I'm not even on speaking terms with his aunt because she refused to give me the money."
Once their tears were spent, some semblance of composure regained, they lifted themselves off the grass. There was still business to be done; that of arranging the burial of their loved ones.
"He was such a brilliant student," Virginia couldn't help lamenting. "He wanted to be an engineer." But it was a dream that would be buried unrealised.
-capitalfm.co.ke