Senator Anyang' Nyong'o defends his letter to UN Security Council on ICC cases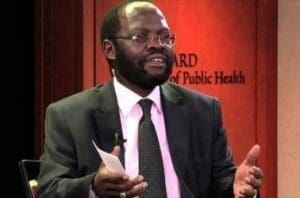 Kisumu, Kenya: Kisumu Senator Anyang' Nyong'o has defended the letter he wrote to the UN Security Council regarding the Kenyan cases at the International Criminal Court (ICC) in 2011.
Nyong'o said ODM did not procure witnesses to fix Deputy President William Ruto and maintained that the remarks earlier made by Gatundu South MP Moses Kuria were misleading.
Kuria had claimed ODM leader Raila Odinga, Nyong'o and former Justice Minister Martha Karua played a role in fixing Ruto, allegations that the leaders have denied.
Addressing the Press after a public lecture on devolution at Kisumu Polytechnic Monday, Nyong'o insisted that the letter did not have anything to do with fixing the DP.
He said he wrote the letter on behalf of ODM at the time he was the party's General Secretary.
"I saw Kuria waving a letter I wrote to the UN Security Council in March 2011. That letter is a public document and there is nothing new in it. I wrote it with regard to the deferral of the Kenyan cases," said Nyong'o.
He explained: "The Kenyan Government was involved in a shuttle diplomacy to defer the Hague cases. As ODM, we were against deferral of the cases and that is why we wrote the letter. It did not have anything to do with witness protection."
He argued ODM took the action because it was a popular wish of the people.
"When Jubilee came into power, the UN Security Council ruled against deferral. Opinion poll at that time revealed 75 per cent of Kenyans were against deferral," he stated.
He said the aim of the letter was to ask ICC to speed up the Kenyan cases to restore peace in the country.
Nyong'o accused Kuria of misleading Kenyans, saying the legislator should carry his own cross.
Raila has also argued that he could not fix Ruto whom they were with, in the same party during that time.
Raila has declined to honour the DPP's summon to record a statement.
The senator stated that he will not appear before the Director of Public Prosecutions (DPP) to record a statement on the allegation.
"The DPP did not write to me; he has not communicated to me. I therefore don't have the reason to appear before him," added Nyong'o.
-standardmedia.co.ke