ICC:We'll rely on evidence, not theatrics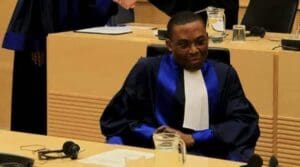 NAIROBI, Kenya, Oct 16 – Judges handling Deputy President William Ruto's case at the International Criminal Court (ICC) on Friday expressed dismay over what they described as a clamour in the Kenyan media to influence outcome of the trial.
Presiding Judge Chile Eboe-Osuji warned in a strongly worded statement that they were fully aware of attacks directed at the court especially when major decisions are made.
"Our attention has been drawn to the unending clamour in the Kenyan media about the proceedings in this case," he stated.
Osuji said the attacks were made to either support a conviction or acquittal but in the long run, end up undermining the work of the judges and the authority of the court.
He regretted that some commentaries appearing in the media amounted to insults aimed at the court and judges.
He was however steadfast that the judges would not be cowed or influenced by the utterances.
Osuji said the judges will abide by the laws of the court and entirely rely on evidence submitted by the prosecution to make its decisions.
According to Osuji, no amount of public utterances will influence the outcome of the Kenyan case.
"It is of course an astonishing behaviour to observe in the context of a criminal trial. We are not impressed; not in the least."
He made it clear the clamour in the media would have zero effect in the outcome of the case.
"We must encourage those concerned in the conduct to save themselves the trouble for the only thing that they achieve in the clamour is to share up the imperviousness of the chamber. To them, we will leave it at that for now and hope that people will leave this case alone and let the judges and the lawyers in the case to do their work," Osuji asserted.
A decision by the trial chamber allowing the prosecution to use prior recorded statements of five witnesses who recanted their evidence is the centre of debate among politicians.
There is an application before the appeals chamber seeking to oppose the ruling on use of evidence from the five witnesses.
Gatundu South MP Moses Kuria stoked the fire when he revealed he paid witnesses to testify before the Kriegler Commission, and suggested the same witnesses may have been enlisted by former ICC prosecutor Luis Moreno Ocampo.
Kuria has since been asked to become a defence witness in the Ruto and Sang case.
Former PM Raila Odinga and his brother Oburu have in the meantime said they are ready to testify for Ruto.
The observation by Osuji was made as the court heard submissions on the re-characterisation of the charges Sang is facing.
The defence has opposed the application, saying it is prejudicial to Sang.
-capitalfm.co.ke