Raila 'manipulating, misinterpreting' data for political reasons – State House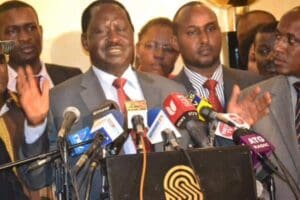 Cord is manipulating and misinterpreting publicly available economic data to alarm Kenyans for political reasons, State House has said.
Communications director Munyori Buku issued a statement on Thursday in response to Cord's criticism of Jubilee as having run the economy down into "autopilot".
"Cord is at it again with imaginary and wrong numbers," Buku said, noting revised global growth forecasts placed only seven of 44 sub-Saharan Africa countries ahead of Kenya.
"Kenya's inflation rate is at 6 per cent, which remains below the average inflation for sub Saharan Africa, which is at 6.3 per cent," he said.
"We would like [Cord leader Raila] Odinga to quote the source of their imaginary statistics," he said, showing disparities between IMF's outlook and Cord's presented figures.
Raila had said Kenya was only better than Burundi and that the idea of being East Africa's biggest economy could soon be a myth.
He said Tanzania, with a growth rate of 7.2 per cent, would catch up in four years and become 20 per cent bigger by 2030.
Buku further noted that under the Jubilee administration, 13,000 primary schools and 1.7 million households countrywide have electricity.
He added that no country can finance infrastructure development without debt, but noted that this must be sustainable.
"The depreciation of the Kenya shilling against the US dollar is not a unique phenomen. Changes in the US economy have global ramifications, cauing the depreciation of currencies worldwide," he further said.
Buku said Raila's alleged politicisation of economic affairs is "unacceptable and irresponsible", and that he thrives on "confusion and disunity amongst Kenyans".
"We can understand Raila's limitations because of his limited role in the grand coalition government and his poor attention to the requirements of effective leadership and government," he said.
Buku said the confusion is why Cord's Okoa Kenya campaign has "flopped miserably", adding it "is based on outmoded thinking borrowed from Raila's stint in government".
"We believe in large-scale, institutional, strategic, policy-based and sustainable leadership, not PayBill drives and excited rhetoric," he said.
Five weeks into the teachers' strike in September, Cord launched an M-Pesa PayBill number to which it asked the public to donate funds to cater to their pay hike demand.
Buku said Raila's career is "littered with the broken lives and dreams of many hopeless Kenyans who trusted him", stood in his way or were at the wrong place at the wrong time.
He added that the Opposition leader is unhappy with any steps aimed at promoting unity and harmony.
On Wednesday evening, Jubilee MPs led by National Assembly Majority leader Aden Duale dismissed Raila's statement, also saying it was politically motivated.
During a briefing at Parliament buildings, Duale also noted that figures in the world economic outlook report released by the IMF last week, were different from Raila's.
Raila accused President Uhuru Kenyatta's administration of "living beyond its means… overborrowing, overspending and overstealing", in a press address following his return from Asia on Wednesday.